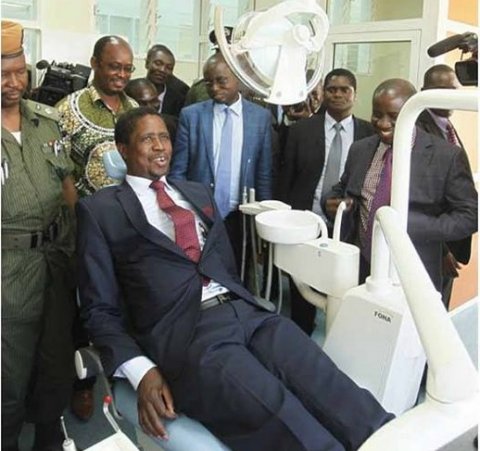 REPUBLIC OF ZAMBIA
OFFICE OF THE PRESIDENT
SPEECH BY THE GUEST OF HONOUR HIS EXCELLENCY MR EDGAR CHAGWA LUNGU THE PRESIDENT OF THE REPUBLIC OF ZAMBIA ON THE OCCASION OF COMMISSIONING MICHAEL CHILUFYA SATA HOSPITAL
IN MUCHINGA PROVINCE
APRIL 17, 20105
– The Royal Highnesses
– The Minister of Health
– The Provincial Minister, Muchinga Province – Hon. Mwimba Malama, MP
– The Member of Parliament for Mpika District – Hon. Mwansa Kapeya, MP
– The Permanent Secretary, Muchinga Province – Mr. Bright Nundwe
– The District Commissioner, Mpika District
– The Provincial and District Heads of Government Departments
– Directors from the Ministry of Health & the Ministry of Community Development, Mother and
Child Health
– The PF Provincial and District Leadership
– The Council Secretary
– Cooperating Partners
– Non-Governmental Organizations
– Members of the Press
– Ladies & Gentlemen
It gives me immense pleasure to be here in Mpika District today to grace this very important occasion where I am privileged to officially commission the newly constructed Phase I of this hospital, which I have named after our late Republican President, Mr. Michael Chilufya Sata. This hospital has been constructed at a total cost of K10 million. On behalf of the Zambian Government, and indeed on my own behalf, I would like to welcome you all to this very important occasion.
The opening of the Michael Chilufya Sata Hospital is yet another milestone which highlights the resolve of the Patriotic Front (PF) Government to ensure the provision of cost effective, quality health care as close to the Zambian people as possible, in a clean, caring and competent environment. The provision of sustainable infrastructure is just but one facet through which this goal can be attained.
I would, however, like this hospital to not just operate as a hospital, but to also operate as a base for studying problems of delivering health care in rural settings as we increasingly focus on these areas.
Improvement of health services in rural areas was a great concern of late President Sata.
Ladies and Gentlemen,
The completed phase I of this hospital consists of an out-patient department, an administration block including casualty, radiology, laboratory and dental services. Works for Phase II have commenced and the constructor is already on site. This second phase will comprise a theatre, maternity ward, mortuary, kitchen, laundry and four (4) medium cost houses. The total cost of this second phase is K19.7 million and it is expected to be completed by February, 2016.
The growing Zambian population, coupled with the advent of HIV/AIDS and sedentary lifestyles, has led to an increase in the disease burden, thereby exerting massive pressure on the existing health care systems. Muchinga province, in particular, has a large number of people living beyond the radius of 5km away from the nearest health facility.
I recognize that Mpika District, with a surface area of 42,000 square km, is by far the largest district in Zambia. It is actually even far much larger than the Copper-belt Province! This situation, coupled with poor road network, has made access to quality health care a very big challenge for the people of this district. To alleviate this situation, my Government has committed itself to increasing health facilities countrywide by constructing six hundred and fifty (650) pre-fabricated health posts, of which sixty- one (61) are in the process of being constructed right here in Muchinga Province.
My Government is also constructing new hospitals, as well as expanding and rehabilitating existing ones. Currently, here in Muchinga Province, there are four hospitals under construction in Mpika, Isoka, Nakonde and Chama districts. In addition, my Government, this same year, will commence the construction of hospitals for Shiwang'andu and Mafinga districts, and a General Hospital in Chinsali district.
Ladies and Gentlemen,
The PF Government is doing all this with the objective of providing sustainable infrastructure which is conducive for the delivery of quality health services at all levels of the health care system. Apart from the health facilities, we are also constructing staff houses for health workers who will be working in these facilities.
To ease referral of patients from one level to the next, my Government procured two hundred and two (202) ambulances for primary, secondary and tertiary hospitals. Among these, one hundred and sixty (160) were Basic Life Support Ambulances which were procured at a total cost of K76 million.
Thirteen (13) of these ambulances have already been delivered to Muchinga province. The procurement of these ambulances is aimed at promoting the continuum of care in linking the primary levels to the general and tertiary hospitals through a strengthened referral system.
The other forty-two (42) ambulances were state-of-the-art Advanced Life Support Ambulances meant to provide pre-hospital care while a patient is being transported to a health facility. These were procured at a total cost of seventy-two million kwacha (K72 million). Two (2) of these were distributed to Muchinga Province for Chinsali District and Chilonga Mission Hospitals.
As PF Government, we endeavour to improve access to quality health services at all levels of care.
For this reason, we will continue to strengthen the referral system. The construction of Chinsali General Hospital is another way of achieving this objective where services provided at the lower levels shall be supported by specialized care within the province.
Distinguished Ladies and Gentlemen,
My Government's focus is on enhancing health promotion and education, disease prevention, curative and rehabilitative services. I am delighted therefore that today, the 17th of April, 2015 here in Mpika District of Muchinga Province, we are witnessing the official opening of Michael Chilufya Sata Hospital, in memory of the late Visionary Republican President and Leader of the Patriotic Front Government.
The expected duration of the construction for the remaining works to complete this hospital, which include inpatient wards, staff houses and external works, is approximately two years. Indeed this level of investment in the healthcare system targeting the primary level of care is unprecedented! My Government, with your best interest at heart, embarked on this mammoth exercise to improve the health sector through infrastructure development.
It is worth noting that my Government has indeed put emphasis on the development and improvement of primary health care; and with your unwavering support, we have recorded successes as evidenced by the number of positive health indicators that we have produced as a nation over the past four years that the PF Government has been in power. For example, in Mpika district, the number of fully immunized children has increased in the past two years.
In addition, the initiation of ART against HIV/AIDS increased from 4,800 to 5,000 in 2013 and 2014 respectively and the district also recorded an increase in the TB cure rate from 71% to 88% in both children and adults in the same two years. It is worth mentioning here that the HIV prevalence rate in Muchinga Province is actually the lowest in the country at 6.4%.
Distinguished Ladies and Gentlemen,
On the issue of health workers; this is an area that has been of great concern for my Government. Being a rural province, Muchinga Province has had challenges in competing favorably with its urban counterparts for this rare resource. The province is currently operating at only 68% of its establishment and my Government is looking at mechanisms to address the issue of employment of health workers in all health facilities, across the country.
Ladies and Gentlemen,
Let me now address staff in the health sector, especially those who will be working at this hospital:
Be mindful that this hospital belongs to the community and therefore, as owners of this hospital, the community members should receive maximum benefit from it. Patients should always be treated with respect and empathy.
As I conclude, I urge the local community to also ensure that the infrastructure and equipment that will be used here is safeguarded and used prudently at all times. This is the only way that the people
of Mpika will get the most benefit from it.
I would also like to pay tribute to the traditional leadership and the people of Mpika, for their
continued support to my Government's developmental projects. Without your steadfast support, we
could not have scored these many achievements today.
Finally, I thank you all for having spared time to attend this momentous occasion.
It is now my singular honour and privilege to declare Michael Chilufya Sata Hospital of Muchinga
Province officially open!
Thank You and God Bless.