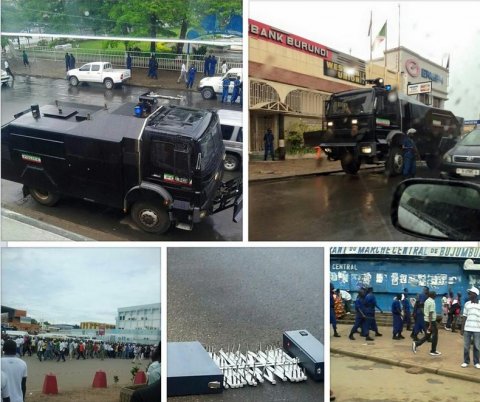 BUJUMBURA (Reuters) – Burundi police fired tear gas and water cannon on Friday at hundreds of protesters opposed to the president running for a third term, a Reuters witness said, a further sign of tension in a nation that emerged from civil war a decade ago.
Supporters have urged President Pierre Nkurunziza to stand in the east African country's June presidential race, although he has not commented on his intentions. Opponents say such a move would violate theconstitution. Even some ruling party officials have asked him not to run.
"We won't let him run again!" people in the demonstration in the capital Bujumbura shouted.
Protesters took shelter in nearby shops or buildings before regrouping. Some hurled stones at police. Rain later helped disperse the demonstrators, although they promised to return.
Opposition parties are discussing uniting behind a single candidate to improve their chances of defeating Nkurunziza, who took office in 2005 after 12 years of civil conflict in Burundi. He has served two terms.
The constitution and the peace deal that ended that war both stipulate no one should be president for longer than 10 years.
The president's backers argue that his first term should not count since he was picked by lawmakers rather than voted in.
Last year, mass protests in the West African state of Burkina Faso drove out longtime President Blaise Compaore when he sought to revise the constitution to seek another term.
There have been growing regional and international calls for Nkurunziza to steer Burundi clear of a crisis.
The United States has urged African leaders to add such limits to their constitutions and respect them if they exist.
"The police used brutality to disperse peaceful protesters, but this will not discourage us. We will continue the struggle," said Chauvineau Mugwingizo, a spokesman for the five opposition groups which had called the protest.
Presidential officials had no immediate comment.
The civil war pitted the then Tutsi-dominated army against rebels from the country's Hutu ethnic group. The army has since been reformed and has in the past said it would not intervene in the political crisis that has been brewing.
At least 6,000 Burundians have fled to neighbouring Rwanda in recent weeks. A Western diplomat said the displaced appeared to be both Tutsi and Hutu and that Rwanda was concerned the numbers could rise sharply if the crisis persists.
Rwanda, a nation of a similar ethnic make-up, was the scene of a 1994 genocide in which about 800,000 mostly Tutsis and moderate Hutus were killed.
Photo  Credit – Thierry Uwamahoro ‏@ThierryU