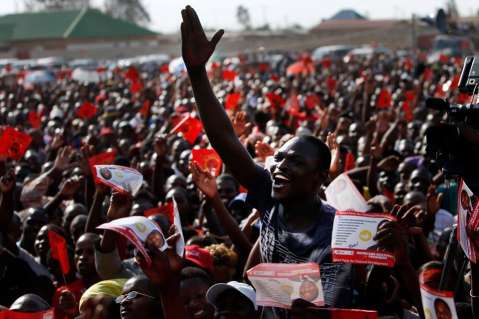 71 Movement for Multiparty Democracy (MMD), United Party for National Development (UPND), and United National Independence Party (UNIP) members have defected to the ruling Patriotic Front-PF party in Chisamba constituency in central province.
Among the defectors are 61 MMD party members with the entire executive, 8 UPND executive members and 2 UNIP party members from Chikonkomene ward.
The defectors were received into the PF by Kabwe district officials on behalf of the provincial PF committee yesterday.
Speaking at the introduction ceremony at Chisamba boarding secondary school in Chisamba district, former MMD Chairperson Edith Likwabila who led the group of defectors said the PF developmental agenda which aims at improving rural people's livelihoods has overwhelmed them.
Mrs. Likwabila told ZANIS that the entire MMD executive in the area has defected to the ruling PF because they have seen a good future, good structures in PF and that the attitudes of party members was all embracing.
She assured the PF in the province of her team's hard work to ensure that more people in the opposition understood the PF vision so that together they can develop the ward and its constituency.
She added that President Lungu has given the country the first female Vice President an action she said was a sign of his commitment to gender equality.
Mrs. Likwabila further requested that Vice President Inonge Wina visits the constituency so that women there appreciation her appointment.
And justifying his defection, Senior Headman Mukoboola (Wisdom Chinsende) who was also MMD ward Vice Chairperson said party members could not clinging to a party whose area Member of Parliament, Moses Muteteka was allegedly answering to lot of court cases.
Headman Mukoboola said he was happy and felt relieved that he had finally become an official member in the ruling party and described his time in MMD as wasteful.
And speaking on behalf of other defectors, UPND branch chairperson Obbrey Zikonda said there was no profit in insisting to belong to a party which was not providing for their needs.
Mr. Zikonda said it was sad that people in the area have been told lies that all the development they see in the area, especially mono-pumps for water were brought by the UPND.
And receiving the 71 defectors, PF Acting Chairperson Mulenga Chellah said his party was glad to have penetrated into the UPND stronghold.
Earlier at the dinner party hosted by the Kabwe district PF party members, Central province Minister Davis Chisopa assured all people in the province that the government under the PF and President Edgar Lungu was committed to delivering development to all parts of Zambia.
Mr. Chisopa commended the party for coming up with an initiative of fundraising for the party instead of relying on handouts.
The dinner was held to welcome the Provincial Minister, to fund raise for the party, and above all, it created a platform and an opportunity for the party members and the Minister to interact with the business community.