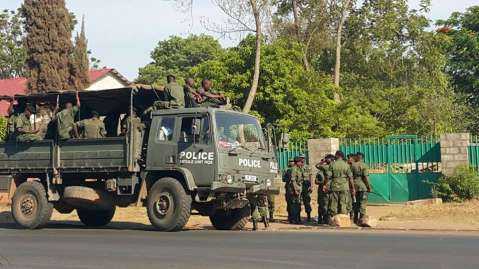 Inspector General of Police, Stella Libongani says government will soon procure more 400 vehicles for police stations country wide.
Ms.Libongani says the vehicles to be procured in phases are meant to address transport challenges faced by the police service in the country.
ZANIS reports that the Inspector General said the police service especially in rural areas like Masaiti, faced transport challenges, which made it hard for them to successfully carry out operations.
She commended the Police Service in Masaiti District for its dedication to duty despite facing numerous challenges.
The Inspector General was speaking when she paid a courtesy call on Masaiti District Commissioner in Masaiti today.
Ms.Libongani who was in Masaiti District to sensitise police officers on the need to reinforce peace keeping during the Tuesday April 14th by elections, called on officers to remain professional and impartial during the by election period.
Meanwhile, Masaiti District Commissioner Joseph Mwambana said there is rampant crime in far flung areas of Masaiti as Police Service in District cannot reach those areas due to lack of transport.
Mr.Mwambana stated that despite Masaiti being a vast district, it still relies on two police stations, which are miles away for many communities.