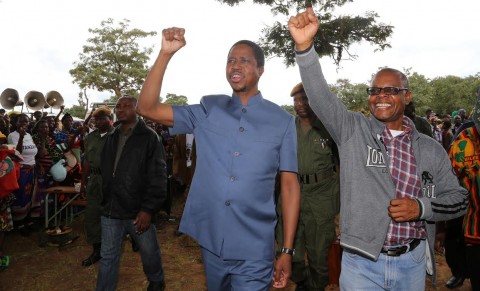 President Edgar Lungu says he will soon declare Senga Hill as a district.
Speaking at a public rally to drum up support for the Patriotic Front (PF) candidate Kapembwe Simbao for the April 14 parliamentary by-election, President Lungu said he has delayed his declaration to allow planners to demarcate district boundaries in order to avoid land wrangles.
The President revealed that experience shows that wrangles have risen after districts have been born out of another district mostly involving chiefs.
And President Lungu has also disclosed that Samora Machel Zambia Air Force base will be be opened for commercial and private planes to land at the military facility.
He said the move was meant to promote tourist in the area as more flights will enable more tourists to visit places such as Kalambo falls and Nkamba Bay.
Meanwhile, President Lungu has asked the people of Senga Hill to vote for the PF candidate so that the constituency can be developed.
He said Mr. Simbao must be given a chance to complete his five year term which was halted after the court nullified his election.