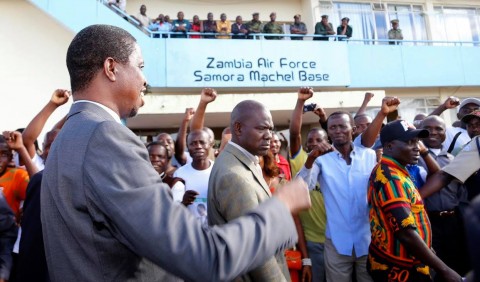 PRESIDENT Edgar Lungu has said the Patriotic Front (PF) will deliver on its promises because it is a party that 'walks the talk'.
Mr Lungu said too many people were positioning themselves to be leaders but the PF was a party that delivered on promises in its manifesto and those made during January's presidential campaigns.
The President was speaking when he addressed people that had gathered to witness the commissioning of the Lunzua power project in Mpulungu yesterday.
"Making promises is one thing, seeing those promises through is another and fulfilling the promises is a challenge to many but am glad that the PF is delivering," he said.
Mr Lungu said that was the sort of leadership that late president Michael Sata bestowed on him.
He told the gathering that as the PF seeks a new mandate next year, people will consider what the party had achieved so far.
He said there were people that kept critisising him because they were merely bent on making him look bad.
President Lungu urged PF members and Zambians to ignore those people that spent their time attacking him and focus on promoting the party's achievements.
Zambians should instead spend their time working and not listening to those that talk too much.
Crdit : TOZ