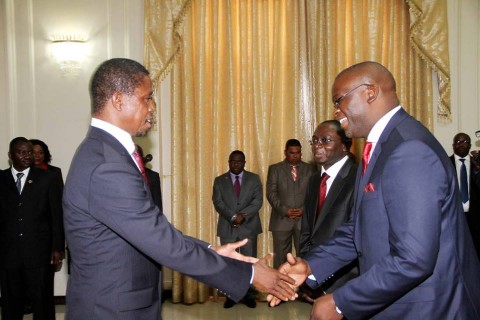 Republican President Edgar Lungu has urged Attorney General Likando Kalaluka against being partisan in the execution of his duties of advising Cabinet and Government.
And President Lungu has tasked Republican Vice President Inonge Wina to help him identify women to be appointed to key positions.
Speaking during the swearing in ceremony of Attorney General Likando Kalaluka and Chalwe Lombe as Ministry of Foreign Affairs Permanent Secretary at State House on April 8,2015, President Lungu says he has no apologies to make for appointing two young men to key positions because they deserve the positions.
President Lungu has since has urged Mr. Kalaluka to ignore negative criticisms but do his work correctly.
President Lungu says he is a member of the Legal fraternity and knows Mr. Kalaluka as a professional colleague and nothing beyond that.
He says Mr. Kalaluka has never represented him in anyway not even during the succession squabbles that rocked the ruling PF late last year.
The Head of State adds that Mr. Kalaluka is not the first young person to occupy the position of Attorney recalling that Mr George Chilupe was a young person when he served as Attorney General and was equal to the task.
The Head of State, who has since conferred on Mr. Kalaluka the status of State Counsel, has also urged the older generation to help the young entrants to be settled in their positions.
Speaking to journalists shortly after being sworn-in, Attorney General Likando Kalaluka says he is a competent lawyer and has requisite experience required by the constitution to be the Attorney General.
Mr. Kalaluka says he will not let down the appointing authority and the people of Zambia.
And Ministry of Foreign Affairs Permanent Secretary Chalwe Lombe says the revised Foreign Policy government adopted last year will act as a guide in making Zambia become a better country.
Credit – QFM NEWS