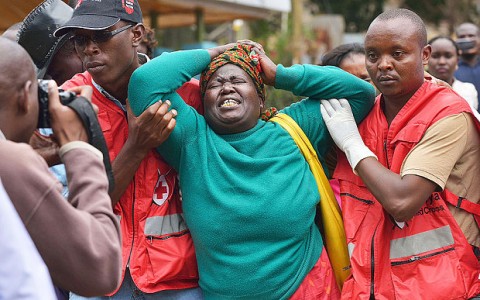 A Nairobi court yesterday ordered five Kenyans and a Tanzanian to be detained for 30 days while police investigate possible connections to last week's university massacre.The court agreed to state lawyers' request for the extended detention period, which usually would last 24 hours before the detainee has to be presented in court.
The Tanzanian suspect is still being held in the north-eastern town of Garissa, where the massacre of 148 people took place.
The day-long siege was claimed by Somalia's al-Qaeda-linked al-Shabaab insurgents, and was Kenya's deadliest attack since the 1998 bombing of the US embassy in Nairobi.
Lawyers for the police said the five Kenyans were being investigated for supplying weapons to the attackers who carried out the killings on Thursday, without giving further details.
One of men was arrested on the university campus where he was a security guard. The others were arrested while trying to cross the border to Somalia.
The Tanzanian man was found "hiding in the ceiling" of the university campus holding grenades, Interior Ministry spokesman Mwenda Njoka has said.
Police are studying phone records of the men believing it shows they were in contact with the four gunmen who carried out the attack and were killed by Kenyan troops.
Authorities on Sunday named one of the four gunmen killed as a fellow Kenyan citizen, highlighting the Shabaab's ability to recruit within the country.
Abdirahim Abdullahi, an ethnic Somali, was a university law graduate described by those who knew him as an A-grade student and "a brilliant upcoming lawyer", Njoka said.
Although losing ground in Somalia, the Shabaab have stepped up attacks inside Kenya as well as its recruitment of Muslim youth in the country's northeastern and coastal regions.
A $ 215 000 bounty has been offered for alleged al-Shabaab commander Mohamed Mohamud, a former Kenyan teacher believed to now be in Somalia and said to be the mastermind behind the Garissa attack. – AFP.