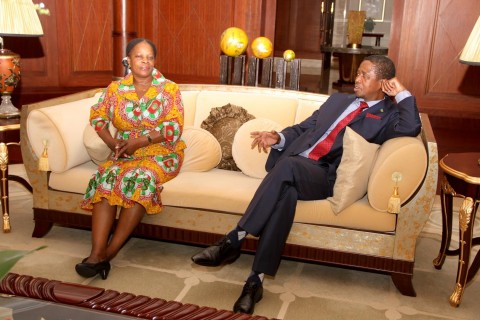 President Edgar Lungu says there is need to add value to Zambian products if the economy is to be stabilized.
President Lungu said a lot of Zambian products are exported in raw form a situation he said makes it difficult for the Zambian economy to perform well.
He said this when he arrived at Simon Mwansa Kapwepwe International Airport in Ndola today.
"There is need for value addition if our economy is to perform better, most of our products are exported in the raw form and we can't perform well as a country if we don't add value to our products," he said.
Mr. Lungu further said there is need to strengthen both the manufacturing and processing industries in order to produce more products.
The President also said his government is working tirelessly to ensure that industries in Ndola are re-instituted.
Mr. Lungu is on the Copperbelt Province to mourn former Member of the Patriotic Front (PF) Central Committee and Road Development Agency (RDA) Board Chairperson, Willie Nsanda, who died in South Africa and has since been put to rest.
The Head of State is accompanied by Agriculture Minister Given Lubinda, Special Assistant for Press and Relations, Amos Chanda and other Party Officials.
He was received by Copperbelt Minister, Mwenya Musenge, Copperbelt Permanent Secretary, Howard Sikwela and Copperbelt Province PF party officials.