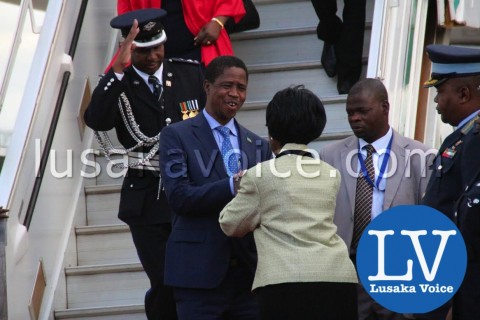 President Edgar Lungu, has sent messages of condolences to the families of late former Minister of Defence in the UNIP government Lavu Mulimba and Chief Jumbe of Eastern Province who both died this week.
This is contained in statement made available to ZANIS by Special Assistant to the President for Press and Public Relations Amos Chanda in Lusaka today.
President Lungu regretted the passing of Mr. Mulimba, 77, who died on Sunday at Lusaka's University Teaching Hospital following an illness.
"It is with great sadness that I learnt of the passing of Mr. Mulimba when I was on official duties abroad. Mr. Mulimba represents a fine generation of politicians who have taught us the great lessons that leadership is about public service and not about personal aggrandizement," President Lungu noted.
He said when a country loses such gallant men that people tend to come face to face with the reality that this fine generation will not be with us forever.
"It is for this reason that the current generation of politicians must quickly pursue the values our pioneer politicians have bequeathed us." He said.
The late Mr. Mulimba has been granted an official funeral on Wednesday, April 8, 2015, the burial date when national mourning takes place.
He will be buried at Sandwe village in Petauke where he once served as Member of Parliament.
Meanwhile the Head of State has consoled the family of the late Chief Jumbe of the Kunda people of Mambwe, who died on April 2, 2015 on his way to Chipata General Hospital following an illness.
The President notes with regret that the passing of Chief Jumbe robs the country of an outstanding traditional ruler who always sought to serve his subjects to the best of his abilities.
Chief Jumbe was among the Chiefs who the President met in a closed-door meeting in February this year when he was on a working holiday at the Chichele Lodge in Mfuwe.
"He provided wise counsel to me and promised to be part of my initiative to increase Zambian ownership of the tourism resource in South Luangwa National Park. It is with a deep sense of sadness that our beloved Chief has now passed on." President Lungu lamented.