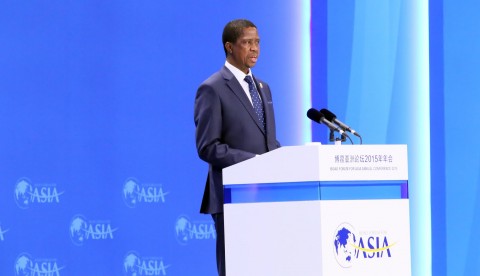 PRESIDENT Edgar Lungu has called on those tasked with the responsibility of procuring services and contracts for the country to ensure that they get value for money to avoid turning Zambia into a dumping ground for substandard Chinese and European products.
President Lungu, who is in China for a state visit said before departing Sanya for Beijing yesterday, that there is need to ensure that only services and contracts that are of high quality and value are procured into Zambia.
He told journalists here that he found China an interesting country because of its current state where a range of products both sub-standard and high-value are obtaining on the market.
China is an interesting phenomenon nation because from it, one could get the best or the worst.
"I was just telling some people a while ago that you cannot turn Zambia into a dumping ground."
The president said Government was not going to allow procurement of services and contracts that are not giving the country value.
"By value contracts, I mean give us contracts, which will provide services to the people of Zambia, which services are sustainable," Mr Lungu said.
He said contracts could only be sustainable if their pricing is good, competitive and includes backup services and training programmes for Zambians who will man those institutions or services once brought into the country.
It was entirely up to those that were tasked with the responsibility of procuring services and contracts to ensure that they get the best out of China. As far as the president was concerned, the country's procurement processes needed to be impeccable and beyond question. The president had drawn valuable experience in Sanya where he found the Chinese to be a people with good hospitality.
President Lungu was impressed with the experience of the tourism sector which seemed to be anchored in Sanya and it was his wish that the same concept could be introduced back home.
President Lungu described the Boao Forum for Asia (BFA) annual conference 2015, a model that works out for the concept of regional integration to participate in the global village.
"I believe that the region where we are coming from has got Southern African Development Community, (SADC), East African Community(EAC) and Economic Community Of West African States, we are saying that unless as the region belonging to SADC begins to integrate its efforts in the economic sector, we will fail to make the grade on the world platform.
Meanwhile, the President yesterday moved from Sanya to Beijing in readiness for his inaugural two-day state visit to China beginning today.
President Lungu's plane landed at Beijing Capital Airport around 20:05 hours local time and the Head of State was straight driven to Diaoyutai State Guest House where he spent the night ahead of his busy schedule here in the capital city of China.
The president was welcomed at the airport by Finance Minister Alexander Chikwanda, China Deputy Minister of Foreign Affairs Cheng Guoping and Southern Africa Development Community (SADC) ambassadors and many others.
Paramount of the president's state visit here in Beijing is the Zambia-China Economic, Trade and Tourism Forum slated for tomorrow at the China Non-Ferrous Metal Mining (CNMC)Group, the biggest Chinese investor in Zambia.
Times