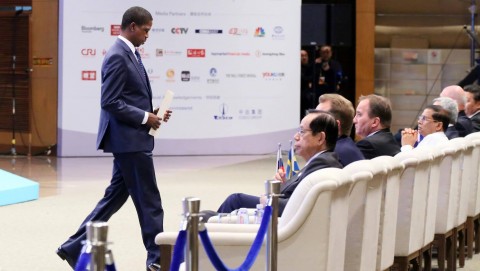 PRESIDENT Edgar Lungu has stressed the need for Chinese companies to venture into partnership with Zambian contractors to help create employment for locals.
Mr Lungu said this will ensure that the many projects such as those in infrastructure development being rolled-out by Government, translate into improved welfare for Zambians.
The president said this yesterday when he held a meeting with China Henan International Group Company Limited (CHICO) vice president Zhang Chengping in Sanya yesterday.
President Lungu said Government's approach towards investment involving international investors would now be that of partnership.
Government would want local contractors to be taken on as it engages foreign investors for projects in the country.
He said he had noted the cry by Zambians that they were not benefiting adequately from the existing business opportunities being created by Government's infrastructure development programme in the country.
Mr Lungu challenged CHICO management to be the pacesetters by being pioneers of engaging Zambian enterprise as partners in working together in whatever contracts were available in Government's quest for infrastructure development.
"The construction projects for roads, the schools, the hospitals, the water works, we are talking about are all opportunities for business like yours but the people back home want jobs, the people back home want partnerships by way of participating in the contracts," Mr Lungu said.
President Lungu implored Chinese companies to identify competent Zambians they could work with as sub-contractors by way of forming partnership ventures.
It was his view that inter-change of technology and partnership was the in-thing, and that China had gotten to the level it had in terms of development because of its collaboration with the rest of the world.
"This is why Chinese President Xi Jinping is talking of the Silk Road again. You want to open up in partnership with the rest of the world, we too want to open up in partnership with the rest of the world including Chinese," he said.
The president said Zambia was open for investment particularly that by the Chinese because of the good relationship that exists between the two nations.
Mr Zhang who congratulated President Lungu on his victory in the January 20, 2015 presidential election, expressed happiness with the Head of State especially for his good speech delivered at the Boao Forum encouraging Chinese investors to be more proactive in the construction and development of Zambia.
Times