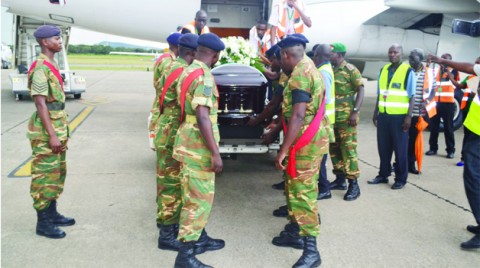 Acting President Inonge Wina on Sunday visited the funeral house for the late PF member of the Central Committee Willie Nsanda in Garnatone area where the body is lying in repose.
Mrs. Wina was accompanied by Home Affairs minister Davies Mwila, Gender Minister Emmarine Kabanshi, several deputy ministers and other senior government officials.
And addressing family members in the house, Mrs. Wina conveyed President Edgar Lungu's condolences to the Nsanda family.
Mrs. Wina says the president is heartbroken following the death of Mr Nsanda who was a close comrade.
She said the president is mourning with the people of Zambia on the loss of comrade Willie Nsanda despite being out if the country in equally important national duties.
Mrs. Wina has added that the funeral of Willie Nsanda is not for the PF members only but for the who country and the people who interacted with him before he died.
She says Mr Nsanda contributed a lot to the well being of the Patriotic Front, which the party is proud of.
The Acting President says the late Mr. Nsanda should therefore be mourned with dignity.
Mrs. Wina says government will do everything within its powers to make sure that the funeral is held in a peaceful manner and the family helped in every way possible.
Meanwhile, former President Rupiah Banda's brother in-law, Moses Chilongo is dead.
Mr. Chilongo who is former First Lady Thandiwe Banda's younger Brother died at the age of 36.
Mr Chilongo died in Kitwe after an illness.
This is according to a statement released to Tv2 News by Mr Banda's Deputy Administrative Assistant Kennedy Limwanya.
The funeral gathering is being held at house number 4844 Almalik Street, Riverside, Kitwe.
Mr Chilongo is survived by a wife.