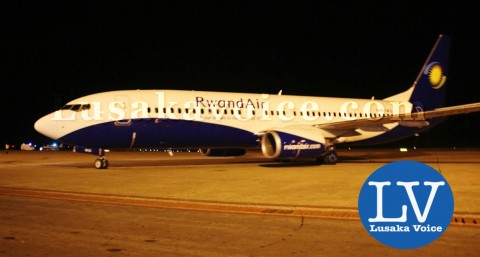 Rwandair made its maiden flight in Lusaka, landing at Kenneth Kaunda International airport at 21:30hrs, yesterday.
This becomes Rwandair's 17th destination in a network that has grown over the past years without compromising time performance and service levels, Rwandair Director of flight Operations, Santos Pio said.
Addressing journalists, Santos Pio said, " I thank government of Rwanda and its leadership for having the vision of expanding the network that we are operating to bring our countries together".
"I would also want to congratulate the government of Zambia for appreciating the needy for Rwanda and Zambia to be connected not only via airlines but through any bilateral means that we can achieve," he added.
Santos Pio said Rwandair had convenience, affordable flights and would also connect passengers to sixteen other destinations in Africa and the Middles East.
"We are here to give a better option of flying in style. We have a superior flight services and we are very good on time performance. Since Zambia does not have an airline, we are here to provide that option. I am sure government has plans for this," Santos Pio said.
Witnessing the maiden flight, Minister of Transport and Communication, Christopher Yaluma said business would be viable for the airline as Zambia had clients.
" We are happy to have Rwandair, this will give passengers a chance to choose.  Since it will service Lusaka three times a week, it allows convenience for any businesses," he said
Rwandair's Boeing B737- 800NG will service Lusaka three  times  a week, offering a direct flight from Lusaka to  Johannesburg.