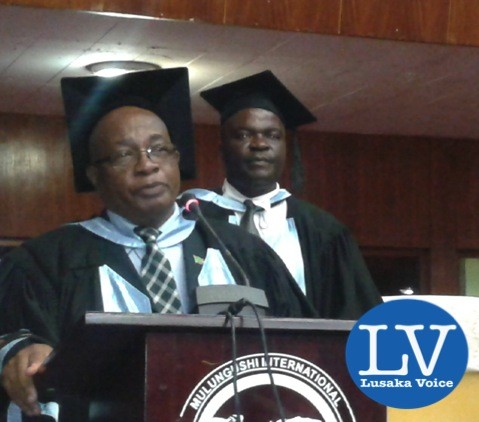 Employees of local authorities have come under fire from the Minister of Local Government and Housing, Dr John Phiri who said they were not performing to the expected standards.
Speaking at Chalimbana Local Government Training Institute's 17th graduation ceremony today, Dr Phiri said the skill of understanding local government operational systems was lacking in most local authorities.
" Most of the staff employed in local authorities do not perform to expected standards,"
"Their mindsets must be tuned so that they are able to comprehend the demands of local governance. It is for this reason that the Local Government Commission should see to it that all new recruited council staff undergo an orientation course at this institution before they are confirmed in any operating position," the Minister added.
A total of 299 students were conferred with Diplomas in Local governance finance, Administration, Record Management, Rural and Urban Management at the colourful event held at Mulungushi Conference Centre.
Minister Phiri said his ministry would transform Chalimbana Institute into a centre of excellency which in turn would provide traning into all aspects of local governance for Zambia and Africa.
" If we are to transform this institution, we must also upgrade it. I am happy to report that the Germany government has provided assistance to rehabilitate the college's infrastructure. The project will kick off this July. Government will also support this process," said the Minister.
Bemoaning the decisions that were being made in local government institutions, Minister Phiri said, " Too many decisions in local government institutions are being made without any research data. It is this institution which must generate the data to aid efficiency in local government institutions".
Directors and other senior staff officials in the ministry were urged to deliver lectures at Chalimbana institution to enhance local governance programs.
" I want to see more interaction between the institution and senior ministry staff. To start off, l will direct them to come and lecture here," he said.
Chalimbana graduants were told to stay away from party politics.
"Please stay away from party politics. If you are already in the game, please stop it. Be loyal to the government and concerntrate on your proffesional growth," Minister Phiri cautioned the graduants.