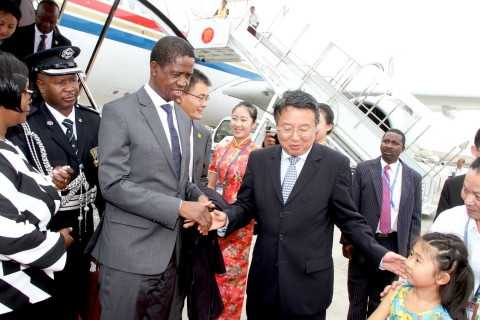 President Edgar Lungu says there is need to promote the idea of Greenfield to prospective investors as it has the potential to enhance investment and create employment in the country.
Greenfield investment is a form of business venture in which foreign corporations or companies embark on ventures in developing foreign countries by constructing new facilities from the ground without inheriting existing structures.
President Lungu noted that Greenfield had remained untapped although it has potential to contribute to economic growth.
The head of state said this when he addressed journalists in Shanghai before departing for Sanya, Hainan Province to attend the Boao Conference for Asia where he will also deliver a keynote speech.
He observed that while Zambia's investment was currently anchored by the agriculture, mining, tourism and other sectors, the Greenfield had remained untapped.
He said the Greenfield investment can create more than 30,000 jobs for Zambians outside the mining sector that currently accounts for many jobs.
The Greenfield type of business venture creates long term employment which offers job security in addition to construction infrastructure.
Gaining knowledge and technology from the new factories that would be built from such investment were some of the added advantages of investment in Greenfields.
Greenfield investment is often encouraged in developing countries and Zambia being one of the fastest growing economies in the world, it is President Lungu's belief that it would be economically correct to use his trip to attract multinational corporations into Zambia to build more new factories.
Zambia has remained one of the world's investment destinations as the country offers many incentives to prospective investors which include tax-breaks and subsidies.
"There are many other investment opportunities in Zambia apart from the mining sector and I believe that Greenfield investment has the potential to create many jobs and significantly contribute to the country's economic growth," he said.
The President added that, "I will certainly take advantage of being here to meet as many investors and assure them of the many investment opportunities and see which areas should be explored so that government could expand them.
He stated that apart from the mining sector, Zambia had many other areas that had the potential to attract foreign investment which can have the catalyst of job creation and contribute to the country's Gross Domestic Product (GDP) currently standing above six per cent.
Meanwhile, President Lungu has arrived in Sanya ahead of the Boao Conference for Asia (BFA) where he will address other Heads of state, business leaders and academia on Saturday.
President Lungu touched down at Sanya Phoenix international airport at 15:35 hour's local time and immediately drove to MGM grand hotel at the seacoast of Southern China sea where he will spend a night.
He is accompanied by his wife Esther, Foreign Affairs Minister Harry Kalaba, Commerce Minister Margaret Mwanakatwe and other government officials.
President Lungu is tomorrow expected to market Zambia as an investment destination when he delivers a speech at the BFA at Boao where the conference is held annually.