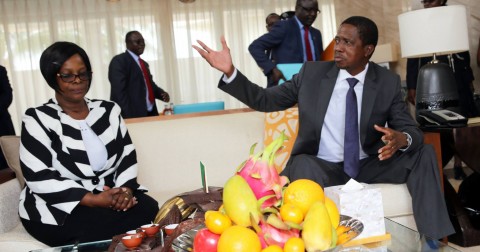 We sympathise with President Edgar Lungu, we really do. And we shall tell you why. We sympathise because the man is clueless. That is as far as our sympathy goes. However as we sympathise, we are alive to the fact that his pride has got the better of him, he therefore will not vacate the seat he has clearly failed to run. Edgar has this self-deception that he is managing the country. We don't know and understand why and how he is managing to deceive himself, but that is beyond us.
Edgar has issued directives by way of letters to the Minister of Finance and Minister of Mines to, by April 8th, come up with a solution to the Mining tax regime impasse. This he claims was arrived at after extensive consultations with stakeholders and more especially the mining companies.
Let's go back a while, when PF was campaigning in 2011, they campaigned on the platform of windfall tax. When they got there, they reneged. Then they went on a borrowing spree, without a business plan. They borrowed money to put in Zambia Railways, Roads and probably to their credit, Zesco. We shouted that putting money in a venture such as a road, a railway company is worthless. For Zambia railways the money was too little to even move the mega problem facing Zambia railways an inch; its rail tracks. What the PF did was to borrow money, buy a second hand car with a very bad engine, paint the body for the car and expect it to pay back the debt with a bad engine. The engine of any efficient rail system is the rail tracks on which trains can run efficiently. But PF knew better, and everyone else was bitter. The short of it they borrowed, invested in none productive sectors and are now faced with a tight fiscal corner, baisanga mukakubila!
Fast forward to 2015. When Chikwanda was reading the budget speech last year, we told him that this 20% tax he is applying on the mines will not go anywhere and the same things that are happening today are the things that we raised as issues that will be stumbling blocks. We guess the only 20-20 vision is hindsight. We had foresight but Chikwanda thought we were jokers. Well the hens have come back to roost, a stark reality faces Chikwanda; before the 8th, he has to have answers. We looked with keen interest at the suggested options, and we can tell you, none of those options is viable. We can bet that they will come up with a novel solution which will further slowdown or stop the economy all together. Chikwanda expected to finance his budget from PAYE, Company Tax, Mine Taxation and Import VAT. His USD is now slowing imports, so he should forget about import VAT. Companies are struggling, he should expect little from the company tax. PAYE, workers are losing jobs because of his carelessness on the fiscal side, yet he has continued borrowing, just yesterday another US$64.5 million debt was contracted.
Edgar does not have the team to turn this country around, let us admit and admit very fast, Zambia today can fail to raise US$257 million to pay for oil yet this is a country that was saying we are still a healthy economy.
Good luck to ourselves as Zambians and hopefully this is the last time we shall make a mistake of electing a visionless leader.