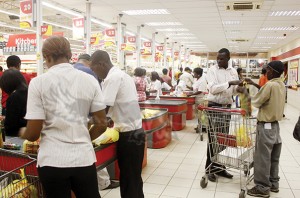 A Shoprite Cahier in Kapiri-Mposhi district and her maid have been sentenced to five day's simple imprisonment for stealing assortment of groceries valued at K397.
Appearing before Kapiri Mposhi Magistrate Ackson Mumba, was Francine Mapulanga 22, and her maid Clara Mpanda 23, both of Fairview in Kapiri Mposhi district who were facing one count of theft contrary to section, 272 of the penal code chapter 87 of the laws of Zambia.
The duo readily admitted the charge.
Particulars of the offence was that on 6th March 2015, the duo jointly and whilst acting together did steal, 2 Bars of soap, 5 bottles of Zamsip, 1×1 kilogrames of salt, 1 packet of sausage,1packet of Jam, 1 tin of coffee, 1 bottle of peanut butter, 2 tins of blue band butter,1 kilogramme of cremora, 1X10 kilogram Bag of Sugar and 1 bucket of boom powder all altogether valued at K393 the property of Shoprite.
According to the facts presented to the court by the Public Prosecutor, Mapulanga told her maid to go to Shoprite and collect the said items where she worked as a cashier.
After picking theitems in question from the shelves Mpanda proceeded to the till were Mapulanga was stationed, but Mapulanga only punched for a few items without realizing that the Shop Manager was observing what was happening.
The Shop Manager then alerted Security personnel who intercepted Mpanda as she approached the exit point and reported the matter to Kapiri Mposhi police station.
In mitigation both Mapulanga and Mpanda asked for court leniency saying that they have children.
Mapulanga told the court that she was caring for both aging parents and other orphans, while Mpanda said that she is a double orphan and her child would suffer repressively if given a custodial sentence.
But Magistrate Mumba said that although the accused who are now convicts had readily admitted the charge, the offence they were facing was very serious.
Magistrate Mumba strongly reprimanded Mapulanga to desist from stealing from her employers as employment is hard to come-by these days in Zambia stressing that employees should stick to the rules and not steal from their employers.
He noted that that stealing from your employers was like biting the finger that fed one, adding that people must be content with what they get paid other than robbing their employers.