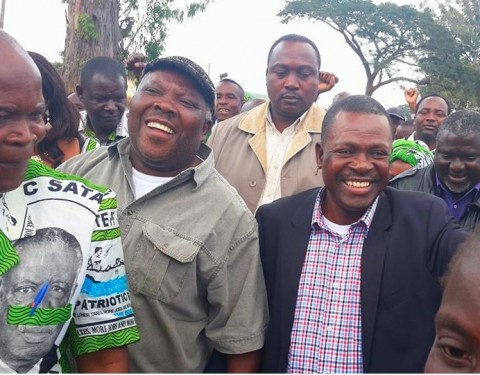 FORMER Justice Minister Wynter Kabimba and his co-accused Post Newspaper Editor-in-Chief Fred M'membe have asked the Lusaka Magistrate's Court to quash their charges of defamation and contempt of court for duplicity.
Mr Kabimba who is Rainbow Party President and Mr M'membe have also asked Principal Magistrate Kenneth Mulife to refer to the High Court the charge of contempt to determine its constitutionality.
Former President Banda dragged Mr Kabimba and Mr M'membe for defamation of character and contempt of court over the article published in the Post Newspaper relating to the removal of Director of Public Prosecutions (DPP) Mutembo Nchito from office.
Mr Banda's lawyers have since asked the court to dismiss the application because there were no constitutional issues to be determined.
One of Mr Kabimba and Mr M'membe's defence lawyers Nchima Nchito applied to have the indictment against his clients quashed for duplicity.
Mr Nchito told the court that his clients had two preliminary issues to raise before they took plea.
He said the charges facing his clients were not good for duplicity because Mr Kabimba and Mr M'membe had been charged with two offences relating to Mr Kabimba's comment.
Another lawyer Eddie Mwitwa asked the court to send the contempt charge to the High Court for determination of its constitutionality as the charge leveled against his clients offended their constitutional and fundamental right, freedom of expression as enshrined in Article 20 of the Constitution in accordance to provisions of Article 28 (2).
Mr Mwitwa said the matter should be referred to the High Court so that the question as to whether the charges leveled against the two violated their freedom of expression could be determined.
He said that courts in various jurisdictions guided jealously fundamental basic right of freedom of expression and as such the matter should be referred to the High Court because the application by Mr Kabimba and Mr M'membe were neither frivolous nor vexatious.
But one of Mr Banda's lawyers Keith Mweemba objected to the accused's request saying Mr Kabimba and Mr M'membe could not claim duplicity when there were two separate counts put under one indictment.
Mr Mweemba said that the court should have no difficulty in dismissing Mr Kabimba and Mr M'membe's application because there was no duplicity as claimed.
Another lawyer Makebi Zulu said there were no constitutional issues to be determined by the High Court over the charge of contempt as such, the request by the two accused persons should be dismissed.
Gilbert Phiri another lawyer for Mr Banda asked the court to use its discretion and not refer the case to the high court because it was not mandatory for it to do so.
Mr Mulife has reserved ruling to March 23, 2015.
Times of Zambia