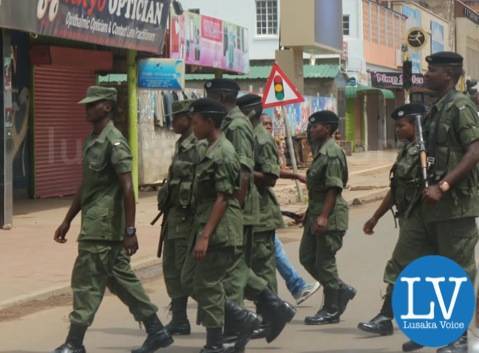 CRIMINALS moving in groups reminiscent of the once notorious 'Group of 12' have gone on rampage terrorising unsuspecting members of the public in Libala South, Hill View and some parts of Chalala residential area in Lusaka.
And Member of Parliament Given Lubinda says he is aware of the criminal activities in his constituency and has since appealed to the police command to increase patrols in the area.
According to sources, the criminals move in groups of three to 15 and are usually armed with stones and knives. They terrorise those on foot and motorists alike from around 20:00 hours.
Several members of the public in Hill View, Libala South and Chalala said the group mainly snatched phones, bank cards and money from the victims. The criminals at times masquerade as customers looking for a taxi.
A man who could not be named whose wife was attacked recently said it was the third time that his family member had been attacked in front of their gate. His son was the first to be attacked at their gate followed soon after by his daughter.
"My daughter's friend was also attacked in this street. They dragged her out of the car and stole her cash before damaging her car," the man said. "But the criminals are not interested in cars, they just steal bank cards, money and phones like what happened to my son."
In the case of his wife, the incident happened in the evening when the criminals smashed her car's windscreen, hit her with an unknown object before they got away with her tablet.
Oswald Sinyibulola, a taxi driver who was also attacked not too long ago, said the incident happened near Water Works in Libala South.
Mr Sinyibulola was attacked around 20:30 hours by four criminals who got away with his phone and an undisclosed amount of money.
"While I was driving I just saw a person from nowhere stopping me and I thought he was looking for a taxi," Mr Sinyibulola said. "So as we were talking three others emerged demanding that I open the car and as I was still arguing, one of them produced a knife and told me to get out of the car. This is when they got the money and phone but they did not get the car."
Another man who only identified himself as Kelvin said he was attacked around 19:00 hours as he was going home.
"As I was walking home last week, I saw a man approach me and hit me in the face and others joined him. They grabbed my grocery and money before they took off," he said.
Taxi drivers in Hill View area said the thugs attacked people because they knew when and where the police were patrolling.
Mr Lubinda said he had also appealed to the police command to increase the number of police officers in the police stations and police posts in the constituency.
He said building police posts itself did not increase security but the increase of police officers and night patrols was what would increase security in the area.
And Lusaka Province Police Chief Charity Katanga said the report of increased crime in Hill View, Libala South and parts of Chalala was noted and that police patrols would be increased.
Ms Katanga, however, called on members of the public to form neighborhood groups to work hand in hand with the police to fight crime.
"With the limited human resources, we will do everything possible in our power to increase police patrols in the affected areas" Ms Katanga said. "But it will be good if people in the areas could team up with the police."
Times of Zambia – By NAKUBIANA MUMBUNA –