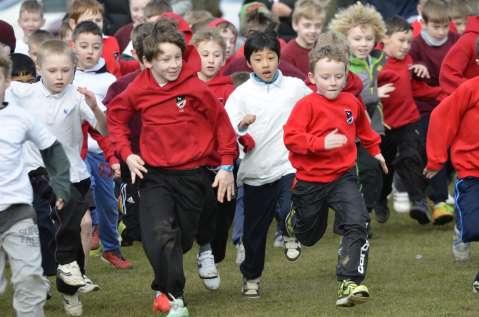 12 MARCH 2015
By Katie Binks
An annual event in the Team Durham calendar, Thursday 26th February saw organised chaos descend with the Zambia fun run. Hundreds of local children were invited down to Maiden Castle to compete in the event whilst raising money for Sport in Action Zambia.
This year, the event management team, a group of six, third year students took on the task of organising the event – from inviting schools to planning the route, writing risk assessments to requiting volunteers, they saw the event through, start to finish. Making their mark on the event, they added a number of activity stations to get the children raring to go, and keep them warm as they waited. A conga line with an eagle, penalty shoot-out against a panda and high-fives with a trophy mascot certainly didn't allow the children time to get cold.
Sport in Action Zambia is a Non-Governmental Organisation based in Lusaka in Zambia, which aims to enrich the lives of young people and promote social messages through sport and physical activity. Durham University works in partnership with Sport in Action as part of a UK Sport volunteering project, sending student volunteer coaches to support their team during the summer months as part of the UK Sport IDEALS project. Durham University provides financial support to the organisation through a calander of fundraising events, including this Fun Run and the Charity Rugby Match hosted in October. Amongst other things the fund raising goes towards purchasing sports equipment; the development of an education programme for Sport in Action participants and supporting a local refuge for street children.
A big thank you to everyone who got involved with the event, includ¬ing the participants, the with local sixth form sport leaders volunteers, the University volunteers, the Team Durham staff mem-bers and of course the event management team without whom such a fantastic day wouldn't have been possible.
If you are interested in finding out more about volunteering with or donating to Sport in Action Zambia, see the website find them on Facebook or email Katie Binks.
Photograph: Elis Wilkins
http://www.palatinate.org.uk/?p=56891