Over the past couple of days, many places across Zambia have suffered from a lack of petrol, including the capital city of Lusaka. Outside many fuel stations you will find long lines of cars waiting to get filled up so that their owners can continue on to work or complete their daily tasks. In some cases, people have been waiting up to two hours to receive fuel.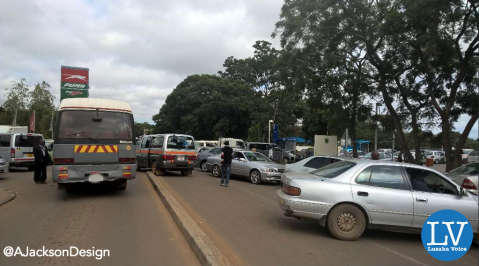 However, for owners of diesel vehicles, their lives have been quite hassle free due to an adequate amount of diesel fuel at many filling stations. But for petrol cars, long lines await them. If there isn't a line outside a filling station, it is most likely that they have already run out. With a low supply but high demand, some filling stations are now putting a cap on purchases of fuel.
#petrolwatch there is fuel at mt meru corner of great north and katima mulilo. Only giving up to 200 kwacha.

— katendi changula (@KatendiChangula) March 11, 2015
Social Media sites have also exploded with people sharing their experiences trying to obtain fuel. The term #PetrolWatch has become very popular among Zambian users of the site Twitter. Tweets with the hashtag share information about what filling stations are open, where there is no fuel, as well as pictures of the lines at filling stations across Zambia.