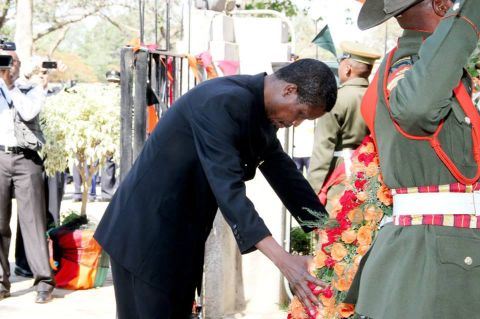 Opposition Zambia Direct Democracy Movement (ZDDM) President Edwin Sakala says Zambian Christians must intensify prayers for President Edgar Lungu and their besieged nation.
Mr. Sakala says they now fear for the next few months because the ongoing threat is not physical but spiritual citing that the forces which tried very hard to block President Edgar Lungu from assuming power have still not accepted that he won the election hence the desperation mode they have resorted to.
Mr. Sakala notes that unless the people of Zambia including those in leadership turn to God for spiritual protection and his mercy, the nation is swimming into an even bigger storm.
He has pleaded with the people of Zambia not to be deceived by the current bearable rocking of the political boat because Satan and his army are already possessing human bodies in readiness for the biggest spiritual attack Zambians have ever seen.
Mr. Sakala explains that while they acknowledge the fact that many Zambians claim to be Christians, their hearts have completely lost touch with God and their minds cannot comprehend the fact that it is the prayers of the devoted Men of God and Christians across the country praying against the forces of evil which have saved Zambia.
He says without these prayers Zambia could have already found itself in a worse off situation.
Mr. Sakala says as ZDDM they regret to observe that most of the Zambian Churches which are supposed to preach the truth and old time reality that God and the devil are not imaginary but real are failing to open the eyes and minds of Zambians to realize that their nation has collapsed because many Zambians have lost their love and fear for God and allowed evil to rule their hearts.
He emphasizes that Zambia can regain back its lost glory and status of being a great prosperous nation if its people can overpower the demonic spirit which has enslaved their minds and turn back to seeking true peace and happiness which they enjoyed when Zambians were a God loving and fearing people.
Mr. Sakala further states that Zambians must know that the declaration of Zambia as a Christian nation by the late President Fredrick Chiluba provoked a spiritual war with the forces of darkness which felt challenged adding that Zambians with spiritual insight will acknowledge that this was a turning point morally and spiritual in the country.
QFM NEWS