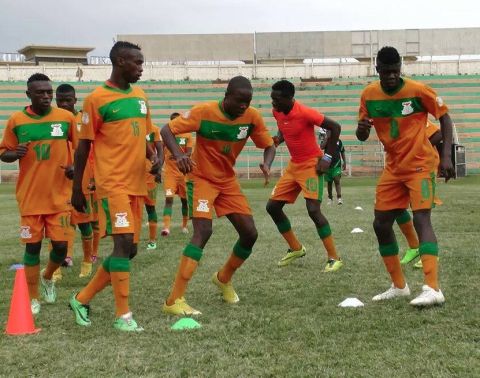 REPUBLICAN President Edgar Lungu has assured the Chipolopolo of continued support despite their elimination from the ongoing 2015 Africa Cup of Nations (AFCON) finals in Equatorial Guinea.
The President said Government appreciated the team efforts and would support them despite their early exit from the competition.
"We understand the desire for the team to win but things did not go our away. Please work on efforts to increase the number of youths in the team so that we build a sustainable team," the President said.
Mr Lungu also urged Football Association of Zambia (FAZ) president Kalusha Bwalya to soldier on with new ideas to develop the Zambian game.
He said this in a statement released yesterday by his special assistant for press and public relations Amos Chanda.
Meanwhile, Sports Permanent Secretary Agnes Musunga said in Equatorial Guinea that the Chipolopolo were leaving the AFCON finals unashamed because the team accounted for itself well despite the early ejection.
"We are sad as Zambia because we came here to win. Our boys were in great shape. It was just unfortunate because of that the bad weather. We have been here for almost a week and it has never rained like this.
And the type of rain which rained now was too heavy to contemplate. But the boys still put up a good fight. We are not going away ashamed. I think we put up a brave face, good fight. It was just unfortunate that we couldn't qualify," she said in reference to a heavy downpour which pounded Ebebiyin during the match.
Kalusha said no one should be blamed for the team's exit as the players gave a good account of themselves but that the match was played under difficult conditions.
"The boys gave a good account of themselves. It was a good match under difficult conditions. In my opinion, I don't know where the rain came from. Our game is always on the ground, dry and playing forward.
It is still not an excuse. I can't fault anybody. I think we were just one goal away from qualifying," Kalusha said after watching Zambia draw 0-0 with Cape Verde on Monday night.
He said for now the team needed to recuperate and that the players needed encouragement for them to stay focused.
Kalusha said with the 2017 AFCON qualifying draws coming in April, FAZ feels Zambia still had a team for the future.
He, however, declined to talk about Janza's contract issue, saying as far as FAZ was concerned the former Zesco United coach was in charge of the Chipolopolo.
Meanwhile, the Chipolopolo yesterday departed Ebebiyin for Equatorial Guinea's capital Malabo enroute home.
Times of Zambia