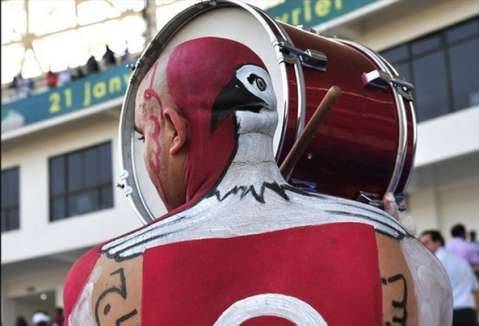 AFTER a cagey 1-1 draw with the Democratic Republic of Congo, Zambia will today seek to better their performance when they host the Carthage Eagles of Tunisia in their second Group B match at Ebebiyin Stadium.
The last meeting between the two protagonists was at the 2010 Africa Cup of Nations in Angola and it produced a gruelling 1-all draw.
The Chipolopolo went on to reach the quarter-finals losing 4-5 on penalties to Nigeria.
Zambia and Tunisia have met four times at the AfCON finals, with the North Africans winning twice while drawing the same number of games.
Today's clash promises to be a cracker considering that both teams drew their opening games.
Tunisia were held to a 1-1 draw by Cape Verde for all the four teams to have one point apiece.
Now the stakes are high, a defeat for either Zambia or Tunisia could lead to an early exit from the tournament.
The Chipolopolo need victory not only to secure a quarter-final berth but also prove critics who have doubted the team's chances of progressing further in the competition.
Janza said it is an interesting group because there are no underdogs.
"We don't have to sleep. In 90 minutes, players have to have the character to stay focused and keep going forward. It is a painful situation [Nathan Sinkala's injury] but such things can happen in a tournament.
"But you don't need to cry over spilt milk but we have to motivate the other players that are coming in, the ones that are getting into the shoes of Nathan. We have to compensate his absence with a win,"
"We know their weaknesses. We know where we can disturb them and we have to work against their strength and work towards their weak points. For a team to win, it's about scores so we need to score goals.
"They are good at set pieces so we have to be very organised during set pieces and also we have to improve on our technical ability in terms of ball possession. We shouldn't give the ball anyhow so [we] manage our ball possession very well," Janza said.
But his opposite, Tunisia mentor Georges Leekens, thinks otherwise.
"We will not dwell on past results. We have respect for Zambia, they won the Africa Cup not so long ago [2012] so I expect them to give us problems but we are hoping to win," Leekens, who once coached former Chipolopolo skipper Kalusha Bwalya, said.
However, Janza's quest to end the North Africans' dominance has suffered with the injury of influential midfielder Sinkala.
Janza could unleash Nkana's Donashano Malama in the holding midfield role.
Janza will hope Given Singuluma, scorer of arguably the fastest goal of the tournament, Emmanuel Mayuka and Ronald 'Sate Sate' Kampamba can combine to break Tunisia's rear guard of Syam Habib Ben Youssef, Aymen Abdennour, Hamza Mathlouthi and Ali Maaloul.
In case the trio fail to rise to the occasion, Janza has other options in Evans Kangwa, Jackson Mwanza, Mukuka Mulenga and Bruce Musakanya.
Skipper Rainford Kalaba, who had a quiet match against DRC, is expected to come to the party and so is dribbler Chisamba Lungu. Should Kalaba and Lungu up their game, it will enhance Kampamba's chances to score.
Kampamba is a 'box' player who plays off the shoulder of the main striker and needs good supply of the ball for him to be effective.
Davies Nkausu, Emmanuel Mbola, Kondwani Mtonga and Sunzu will shield goalkeeper Kennedy Mweene from rampaging Montpellier striker Jamel Saihi and skipper Yasine Chikhaoul of Swiss outfit FC Zurich.
Probable line up:
Zambia: Kennedy Mweene, Emmanuel Mbola, Davies Nkausu, Kondwani Mtonga, Stopilla Sunzu, Donashano Malama, Given Singuluma, Rainford Kalaba, Emmanuel Mayuka, Ronald Kampamba and Chisamba Lungu.
Tunisia: Aymen Mathlouthi, Syam Habib Ben Youssef, Aymen Abdennour, Yasine Chikhaqui, Ali Maloul, Houcine Nater, Mohamed Ali Moncer, Hamza Mathlouthi, Wabbi Khazri, Ahmed Akaichi, Jamel Saihi.
Daily Mail