Jan 19th
Dear Friends,
FARMERS BEING DISENFRANCHISED IN NORTHERN PROVINCE.
it is really sad that the PF Government has decided to disenfranchise farmers and may not participate in tomorrow's elections.
The Government announced that the farmers would be able to collect their dues owed by the Food Reserve Agency, today Monday 19th January. However, this is a Donchi Kubeba,as it is intended to keep them away from their polling stations knowing very well that they have frustrated these farmers and they would probably vote for other candidates, other than PF candidate.
What is disheartening, is the PF sinking to new levels of deception, a day before elections. What guarantees are there that if and I say if they were to be elected they will be able to honour their promises to the citizenry?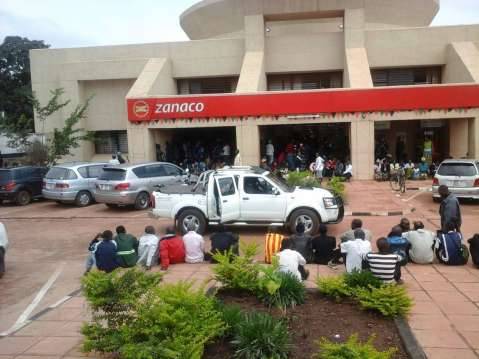 Country men and women, do you see the kind of people some of you glorify as saints. they are just interested in holding onto power at any cost and will continue treating you as children.
As a measure, I give the Government up to 17 hours today to clear these farmers otherwise I will transport them back to their areas today to participate in the elections and then come back on Wednesday to collect their dues. I also urge all my colleagues to do the same in their areas as I understand this is occurring all over the country. Farmers don't be cheated. Come back Wednesday and HH will see to it that your dues are paid.
PF stop playing with people's livelihoods. you do not deserve to govern a further day.
I will post the pictures prevailing at all the banks in Kasama.
I urge you all to vote for a President that cares for you at all times.
Good Day