Suspected Patriotic Front cadres this morning attacked UPND supporters in Mongu with a UPND provincial trustee feared dead.
The incident happened at Mongu Airport after UPND President Hakainde Hichilema was unable to fly out of Mongu as a result of the visit to the area by acting President Guy Scott.
The UPND provincial trustee who was hit with a plunk on the head by a PF cadre in full view of the Police sustained a deep cut on the forehead.
And UPND President Hakainde Hichilema has condemned what he has described as the terrible violence and thuggish behavior witnessed in Mongu this morning.
Mr Hichilema says with such violence, he doubts the elections on 20th January will be peaceful and free and fair.
He says the perpetrator of the violent act on the UPND official should be arrested for murder or attempted murder if the victim survives.
Mr Hichilema says Zambians must vote against thuggery in the forthcoming presidential election.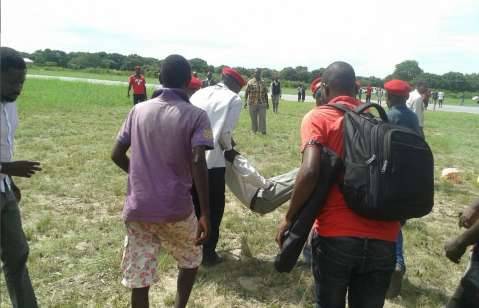 qfm news