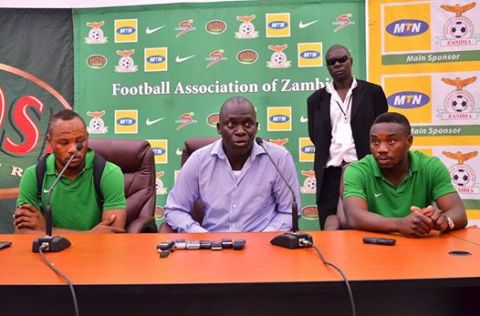 COACH Honour Janza has backed Chipolopolo captain Stopilla Sunzu intended move to the Chinese League from his financially struggling French Ligue 2 side, FC Sochaux.
Sunzu, who joined FC Sochaux from DR Congo side TP Mazembe during the January transfer window on a three and a half year deal, has been linked with a move to join a Chinese Super League Shanghai Shenhua.
Janza said in an interview in Lusaka that Sunzu should take up the offer to play in the Chinese Super League.
He said that he was behind the decision by Sunzu to join the Chinese side because he was still a young and talented player whose welfare should come first in order for him to continue developing in his football career.
Janza said he had a talk with the Chipolopolo skipper who informed him that Sochaux was going through financial challenges.
"I spoke with Sunzu and I think it will be in his best interest for him to leave the French club and join the Chinese Super League because of the financially challenges his club is facing.
The sponsors of the club are threatening to pull out, Sochaux is no longer the same now compared to the time Sunzu joined early this year," Janza said.
Janza said it was not good for a player to be worrying about his welfare and that Sunzu should take the offer.
"Football has no limitations to talented players like Sunzu, he might go to China today but who known's what tomorrow holds for he can still make it to Europe some day," Janza.
A French sports publication, daily L'Equipe, reported that Sunzu is set to join Shenhua during the winter transfer window although the player will only link up with his new club after the 2015 Africa Cup of Nations (AFCON) finals next month.
Meanwhile, striker Emmanuel Mayuka has been given green light to join the Zambian camp early ahead of the Equatorial Guinea 2015 AFCON finals.
Southampton manager Ronald Koeman told the club website on Tuesday that Mayuka will join the Zambian camp this weekend because he has enough players for the position.
"We will have three players who will play for the national teams. Mayuka will go now this weekend because we have more players available in that position," he said.
Koeman has, however, decided to delay the release of Senegalese Sadio Mané for AFCON duty until after the FA Cup game on January 4 same for Maya Yoshida, who will be away with Japan for the 2015 AFC Asia Cup finals.
"I spoke to the national coach of Japan and Maya will stay until after the game against Arsenal. Sadio will stay until after the game against Ipswich (in the FA Cup). We have already spoken about the transfer window.
We need one or two players in front because we don't have a lot of choices. We will lose Sadio in January as he will play in the Africa Cup of Nations. That means we will need good attacking players and we are looking for that and working on that," he said.