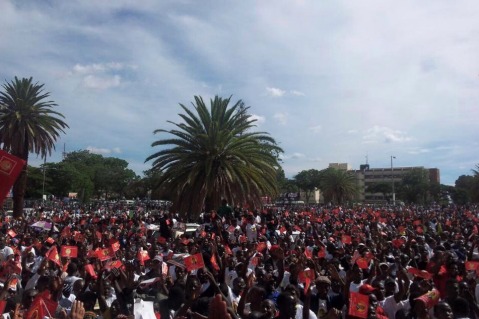 United Party for National Development (UPND) president Hakainde Hichilema has successfully filed in his nomination papers before acting Chief Justice Lombe Chibesakunda for the presidential election slated for 20th January, 2015.
The UPND leader who was accompanied by scores of supporters has promised to ensure peace and stability return to country immediately he is ushered into office.
Mr. Hichilema told journalists after filing his nominations that Zambians have now opened their eyes and will not vote for a party that is playing with machetes and pangas.
Mr. Hichilema says his first priority in office will be to reduce the high cost of living and ensure that more money continues to flow.
He adds that it is now clear that time has come for the God given opportunity for him to govern the country.
The UPND leader has also promised to maintain the respect of the rule of law and respect Zambians while in office.
The UPND leader was accompanied by his wife Mutinta, former first lady Maureen Mwanawasa, veteran politician Vernon Mwaanga and other party officials.
And Fourth Revolution Party President Erick Chanda has described the validation of his nominations as the beginning of the economical liberation for Zambia.
Speaking to journalists after he filed in his nomination papers Mr Chanda says once voted into office his priority is to ensure that Zambians take charge of the running of the economy by making sure that they occupy all businesses owned by foreigners.
He says foreign investors will only be allowed in the manufacturing sector in a bid to ensure enhanced production.
QFM News Zambia