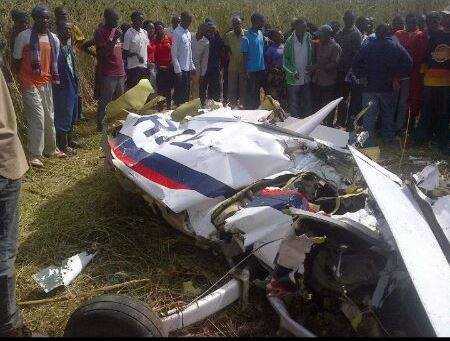 PARLIAMENT yesterday heard that investigations into the cause of the two Zambia Air Force (ZAF) aircraft accidents in Livingstone and Lusaka have continued. Defence Minister Edgar Lungu early in the year quashed a preliminary report on the cause of the ZAF plane crashes submitted by the board of inquiry he appointed, for lack of detail. The accidents involved ZAF deputy commander, Major General Muliokela Muliokela with his co-pilot, Colonel Brian Mweene, who died when their SAAB MFI-15 crashed during a routine training exercise in Lusaka West in May this year. Three other ZAF pilots died in separate crashes, two in January this year after their FA 528 SAB aircraft crashed in Livingstone and another in March last year at the Lusaka City Airport.
This prompted the Government to appoint a board of inquiry to investigate and ascertain the causes of the plane crashes.
Defence Deputy Minister Joseph Lungu yesterday told Parliament that the board of inquiry constituted by Government to investigate the ZAF plane crashes had continued.
Colonel Lungu was responding to a query by Lumezi MMD Member of Parliament (MP) Isaac Banda who wanted to know whether investigations into the two accidents had been undertaken.
The board of inquiry had been constituted but the proceedings of the board were yet to be concluded.
He said once the investigations were completed, the findings and the recommendations would be handed over to the President, who was the Commander-in-Chief of the armed forces.
And the House has heard that many Zambian doctors who left the country in search of greener pastures abroad have returned.
Health Deputy Minister Chitalu Chilufya said Government had improved conditions of service for doctors and most of them were now trooping back home.
Government had also continued to increase output of doctors in the country and set up a new medical school for doctors in Ndola to increase the number of trained doctors in the country.
He was responding to a question for oral answer from Mwandi MMD MP Michael Kaingu who wanted to find out whether Government was aware that Mwandi hospital had no medical doctor.
Meanwhile, Government has regretted the eviction of more than 200 settlers in the Lukusudzi National Park.
The families were evicted by Zambia Wildlife Authority (ZAWA) workers last week.
Tourism minister Jean Kapata said it was unfortunate that the families had been left in the cold but the office of the Vice-President had moved in to assist the families.
It was sad that the families had continued to resist resettlement because of the desire to continue mining gemstones and poaching in the game park even after continued reminders for them to vacate the park since 2010.
Most opposition MPs condemned the eviction of the families during the rainy season, saying the families would lose both property and their crops but Ms Kapata said Government wanted to prevent human-animal conflict hence its move to relocate them.
Times of Zambia