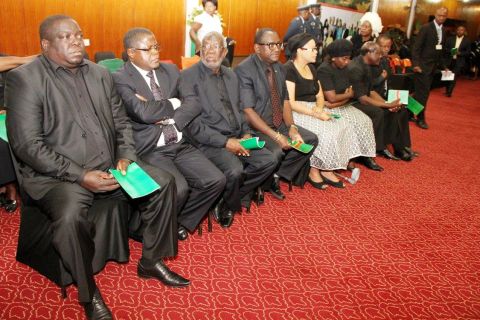 Fourteen Cabinet Ministers have passed a vote of no confidence in acting President Guy Scott.
The Cabinet Ministers have since demanded the resignation of Dr Scott from the position of acting President.
They have further directed the Secretary to Cabinet working together with the Attorney General to ensure that an urgent Cabinet Meeting is immediately convened with the agenda to discuss the possibility of replacing Dr. Scott as Acting President.
Foreign Affairs Minster Harry Kalaba who read the statement flanked by fellow Cabinet Minister during a media briefing this afternoon said Dr Scott has taken numerous actions that endanger the peace, unity and security of the country.
Mr Kalaba says Dr, Scott has persistently taken advice from known private individuals disregarding established institutions and bodies such as Cabinet.
He says the Cabinet Ministers have now realized that it is for good reason that President Michael Chilufya Sata never gave Dr. Scott an opportunity to act as President.
Mr Kalaba says the Ministers unreservedly take responsibility and tender their strong apologies to the Nation for selecting and affirming that Dr. Scott should act as President during the Cabinet Meeting held on 29th October, 2014.
He states that clearly the confidence and trust they reposed in Dr. Scott was totally misplaced and he has since abused their trust and confidence repeatedly.
He adds that as Cabinet they have noted that Dr. Scott has persistently worked against the interest of the party that sponsored him as a Member of Parliament and allows him to be Vice-President of the country and subsequently as Acting President.
Mr Kalaba further states that Dr. Scott's actions have clearly been inimical to the interests of the nation, adding that his actions have the potential to stoke instability in a nation that has been anchored on peace and profound human fellowship.
The Ministers who attended the briefing include Finance Minister Alexander Chikwanda,Justice and Defence Minister Edgar Lungu,Home Affairs Minister Ngosa Simbyakula,Gender Minister Inonge Wina,Mines and Energy Minister Christopher Yaluma and Health Minister Joseph Kasonde.
Others are Labour Minister Fackson Shamenda,Tourism Minister Jean Kapata,Education Minister John Phiri,Chiefs and Traditional Affairs Minister Nkandu Luo,Community Development,Mother and Child Health Minister Emerine Kabanshi,Information and Broadcasting Services Minister Joseph Katema and Transport ,Works ,Supply and Communications Minister Yamfwa Mukanga.
qfm news