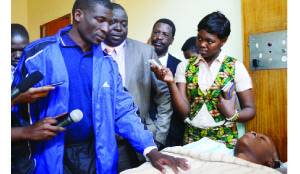 SPORTS Minister Chishimba Kambwili says plans are underway to evacuate Under-17 soccer team player Changwe Kalale for specialised treatment to South Africa once he stabilises.
Meanwhile, Kalale, who sustained a spinal injury in the fatal road accident at the weekend, yesterday celebrated his 17th birthday at the University Teaching Hospital (UTH) where he is currently admitted.
Kambwili, who yesterday visited Kalale, said he has been having talks with acting President Guy Scott to have the player evacuated to South Africa.
"Your great contribution to sports in Zambia is recognised by Government and we will do everything possible to get you better treatment. The ministry is already working on the papers and will just wait for the doctors to inform us when he can be moved," he said.
He encouraged Kalale not to despair but to believe in God that he will recover from his illness.
"It is unfortunate that this happened at a time when we need your services at the 2015 Africa Junior Championship. But do not lose hope as everything happens for a reason. Believe in God and soon it will be history," he said.
And Kalale's father, Bernard, who almost broke down into tears, said he has faith that his son will get better and play football again.
Before the leaving the hospital, Kambwili, who was accompanied by director Bessy Chelemu and some other Government officials, sang happy birthday for Kalale and promised to get him some gifts.
When he visited Nyambe Mulenga, Kambwili said the Chipolopolo defender might be moved to a different hospital if his legs do not improve after receiving medical treatment at Italian hospital in Lusaka.
He said government realises that Mulenga's legs are his certificates and therefore it will do everything possible to see him get back on the pitch.
"I have given directives to Zesco that they should make sure the best medical care is given to you. We do realise that your legs are your certificates, diplomas and degrees and will do everything possible because you had an accident while on a tour of duty.
If they can't do it at Italian hospital, then we have to move you to any hospital where they can get you back onto the pitch," he said.
He encouraged Nyambe to accept the situation and remain positive that he will recover and play again.
"You need to have the conviction that you will get better, that's how healing works. Don't have the negative attitude that this is the end of my football career; just be positive that I will play again," he said.
Nyambe said he was improving everyday and is looking forward to getting on the pitch again.
In-a-related development, FIFA president Sepp Blatter has said his thoughts and prayers were with the injured trio.
Times of Zambia