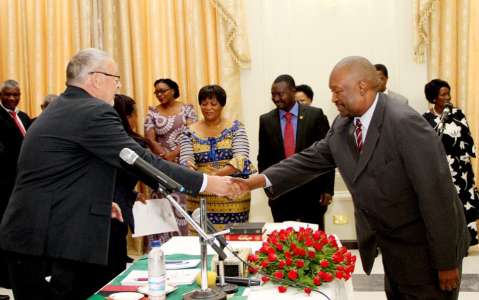 THE Kabwe High Court has dismissed an application in which a resident of Mbala was seeking judicial review over Cabinet's decision to appoint Vice-President Guy Scott as Acting President after President Sata's death on October 29.
In his ruling on Thursday, Kabwe High Court judge-in- charge Mwiinde Siavwapa dismissed Kalumba Simuyemba's application for judicial review on grounds that it is bad for duplicity and ill-fated.
Mr Justice Siavwapa said it is his view that Mr Simuyemba's application was bad for duplicity because the relief he was seeking and the defendants are the same as those in another case in Lusaka.
"In the circumstances, this application is ill-fated and I dismiss it accordingly. It is, however, within the applicant's right to apply to the High Court at Lusaka for the order to be joined as a similar application to cause number 2014/HP/1783," Mr Justice Siavwapa said.
He ordered that each party will bear the costs.
Mr Simuyemba had sued Attorney General Musa Mwenye and Dr Scott as first and second respondents, respectively.
Earlier, Mr Justice Siavwapa said Mr Simuyemba's was attracted by the decision of Cabinet to appoint Dr Scott as Acting President.
"I am satisfied that the applicant herein has sufficient interest in the matter as cited. It is, however, noted and I take judicial notice of the fact that cause number 2014/HP/1783 is pending before the Court at Lusaka," Mr Justice Siavwapa said.
"This, therefore, raises a real possibility that the two cases are going to raise conflicting outcomes. This, therefore, appears to be a case of duplicity of causes on the issues which are similar," Mr Justice Siavwapa said.