Pick n Pay has officially opened its 4,200 square metres flagship store in Zambia at the newly established East Park Mall in Lusaka. The Honourable Member of Parliament for Munali, Professor Nkandu Luo unveiled the store this morning at 09h00 in the presence of the University of Zambia Chancellor, Dr. Jacob Mwanza, senior Pick n Pay Group executives, Pick n Pay Zambia staff and management, Pick n Pay stakeholders and the media.
Pick n Pay East Park becomes Pick n Pay's tenth store in Zambia following its entry into the country four and a half years ago in 2010. It will be serviced by 200 employees with a percentage of them being students at the University of Zambia (UNZA) who will work on a part-time basis.
When Pick n Pay Zambia launched in Zambia it focused on taking care of the most important person it has, the customer. The store has done this exceptionally well and as a result experienced significant growth including exceeding its inception target to open 7 stores and have 1000 employees in 5 years by opening an additional 3 stores and having a workforce of 1500.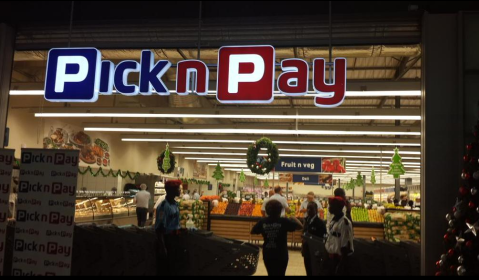 Speaking during the official opening, Professor Nkandu Luo commended Pick n Pay Zambia for its achievements thus far.
She said: "When Pick n Pay came to Zambia in 2010 your target was to open 7 stores and have 1000 employees within 5 years. You have exceeded this by far. I congratulate you on a job well done"
Professor Nkandu Luo also applauded Pick n Pay for walking the talk through its equal employment opportunities, CSR projects that focus on education and its newest initiative – a partnership with UNZA.
The Honourable Member of Parliament added: "Pick n Pay's partnership with UNZA is a great project that will address some of the shortcomings the learning institution is facing including the student's financial pressure. This initiative to employ university students is a first in Zambia despite being a common culture in other countries. I commend you for taking this step and encourage other companies to emulate you and spread this initiative to other parts of the country."
Pick n Pay remains humble despite its success and is indebted to its customers who make its dream a reality. The store strives to provide and procure local content, as being local is the best it can do for its clients. As a retailer, it feels its job is never done and will therefore continue seeking inspiring ways to service the Zambian market better.
Pick n Pay Group Enterprise Director, Dallas Langman commented: "We are thankful to our suppliers, contractors, staff and customers for their support which has greatly contributed to our success in Zambia so far. The launch of this 10th store is a fantastic achievement for us and we remain humble trusting that our job as a retailer in Zambia will never be done; we will continue to work and seek trusted ways to serve you the people of Zambia better."