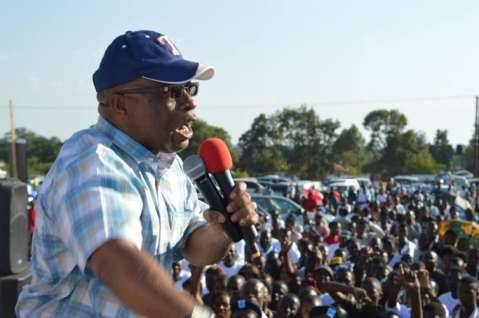 MMD president Nevers Mumba has suspended Southern Province chairperson Oliver Pelete for alleged indiscipline.
Mr Pelete has been replaced with the provincial secretary Shebby Mushabati who will act until a suitable person for the position is found.
Addressing party members on Monday, Dr Mumba urged members that do not want to work with him to form their own political party.
"The high court has granted me an interim injunction restraining Muhabi Lungu and others from interfering with the smooth running of the party but your chairman for this province is interfering. I don't want my own member to face the consequences of the court and I'm therefore suspending him with immediate effect," he said.
Dr Mumba wondered where Mr Pelete's loyalty was and if not to the party president.
He said it is unfortunate that Mr Pelete was phoning people in Livingstone urging them not to attend the meeting that would be held by the party president.
His actions are tantamount to contempt of court. We are going to normalise things in the party. I'm tired of fighting the same people in the party and I'm not going to be a baby-sitter party president,I have grandchildren," he said.
Dr Mumba has also lifted the suspension of Namatama ward councillor Fennix Liandisha.
When contacted for a comment, Mr Pelete said he could not comment on his suspension and referred all queries to the MMD national secretary Muhabi Lungu.
Efforts to get a comment from Mr Lungu proved futile as his phone was not reachable.
Meanwhile, Chairperson for Arts and Culture Elizabeth Chitika Molobeka says the MMD will stick to the constitution in resolving the impasse in the party.
Dr Mumba was accompanied by National trustee Peter Machungwa, MMD National treasurer Mwansa Mbulakulima and National vice treasurer Winnie Zaloumis.
Zambia Daily Mail