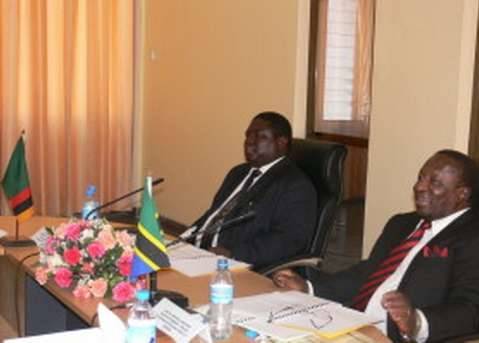 The Minister of Transport, Supply, Works and Communications, Hon. Yamfwa Mukanga has declared that the Government will not allow the collapse of TAZARA and that all efforts will be made to ensure that the Authority bounced back to its best.
The Minister was speaking recently when the Vice President of China Civil Engineering Construction Corporation (CCECC), Mr. Zhao Zhongning called on him.
CCECC is the Chinese state company that surveyed and constructed TAZARA in the 1970s and the Vice President was in the country with television crew to record a documentary on the history of TAZARA.
Hon. Mukanga said TAZARA had not only played a key role in the development of the Zambia, but was also good for fostering good relationships with neighbouring countries.
The Minister said his government would not like to see TAZARA
collapse as that would not help the nation in anyway, but would be detrimental to the development of Zambia.
Hon. Mukanga said it was the wish of his government to ensure that the TAZARA line was connected and interlinked to many parts of the country in order to enable the railway line become viable within the country through local operations.
He said it was the desire of the Patriotic Front government to ensure that TAZARA improved its operations and emphasised that it would be illogical for Zambia to let the railway firm collapse, pointing out that within the country itself there were a lot of logistical challenges which needed the services of TAZARA.
He said it was for that reason that there were plans by the Zambian government to construct railway spurs to link TAZARA to Mpulungu from Nseluka and to Chipata from Mpika.
Hon. Mukanga said that as construction and rehabilitation of the road infrastructure was going on, it was also necessary to work on the railway network because without functional railways, the roads would continue getting damaged.
And the CCECC Vice President said he was particularly excited to have met the Minister and announced that he was aware that the Chinese government was ready and willing to reconstruct TAZARA.
Mr. Zhao also separately met the Deputy Minister of Transport, Supply, Works and Communications, Hon. Col. Panji Kaunda, who said that he was excited to hear that the Chinese were willing to reconstruct TAZARA and was looking forward to the day when the rebirth of TAZARA would be announced.
Hon. Kaunda said that his father, Dr Kenneth David Kaunda, the Founding Father of Zambia and one of the Founders of TAZARA, would be delighted to receive the news about the planned reconstruction of TAZARA. The First President of Zambia was not in the country to meet Mr Zhao and his team.
Reported by Ernest Mwape, Public Relations Officer (Zambian Region)