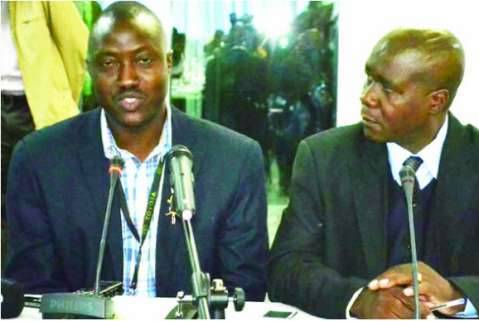 By CHUSA SICHONE –
THE returning officer who presided over the second Patriotic Front (PF) general conference in Kabwe has said he did not declare Matero Member of Parliament Miles Sampa as president because of a court injunction as well as the failure by the conference to meet the quorum.
Addressing journalists in Lusaka yesterday, Germano Kaulungombe said the meeting did not form the required quorum as stipulated in the ruling party's constitution.
Mr Kaulungombe said the minimum Electoral College for the general conference as enshrined in the PF constitution was 3,700 with the barest minimum of 1,856 but that only 1,127 delegates had registered and voted during the Monday conference.
"On Monday just before midnight I did make a statement at Mulungushi Rock of Authority where I declined to declare a candidate called Miles Sampa as president of the Patriotic Front," he said.
Mr Kaulungombe clarified that some sections of the media that were quoting Mr Sampa as PF president were doing so wrongly because at no time did he declare him as such.
"One simple categorical position before I come to my statement is that Miles Sampa is not president of the Patriotic Front and was never declared as president of Patriotic Front. If the party is going to give itself rules, it must follow those rules and I followed those rules to the latter," Mr Kaulungombe said.
"I was not going to be used and up to this moment I have no fear that as long as I speak the truth, there shall be no harm upon me.  At the moment as it stands right now it's not a matter for me to sort out, but my documentation only confirms that at the moment there is only one declared party president who is the honourble Edgar Lungu."
Mr Kaulungombe said he received the injunction restraining the second PF general conference from going ahead at 15:30 hours while he was trying to ascertain whether a quorum had been formed and alerted the six commissioners about it.
The commissioners agreed to discontinue the conference, a decision he informed Acting President Guy Scott and former PF deputy secretary general Anthony Kasolo.
Dr Scott then told the returning officer to do what he thought was right as a lawyer.
Mr Kaulungombe said admitted that he could have been wrong by proceeding with the general conference beyond 15:30 hours but that did not mean he completely ignored the court order as he used his moral judgment not to declare a winner.
Meanwhile, Tutwa Ngulube, the returning officer who presided over the first general conference which declared Mr Lungu as the PF president, has said Mr Kaulungombe's revelation has vindicated his decision.
Mr Ngulube, who is also a lawyer, said the quorum was by far beaten at the first PF general conference in which he declared Mr Lungu as the party's president as there were 3,750 delegates.
"I also wish to confirm that as far as the PF constitution is concerned, there is only one president and that is president Edgar Lungu, duly nominated, duly elected and duly handed over the adoption certificate," Mr Ngulube said.