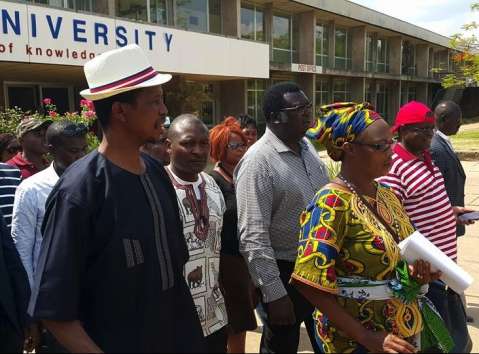 The PF national council has unanimously endorsed Defence and Justice Minister, Edgar Lungu, as the party's preferred republican presidential candidate.
PF National chairperson, Ionge Wina, announced the development when she addressed thousands of PF members who converged at Mulungushi Rock of Authority in Kabwe.
Ms Wina has since declared the position of PF party president vacant and preparations for voting to elect the new PF party president are under way.
She disclosed that acting president Guy Scott is unable to attend and preside over the conference which he had called for.
Ms Wina said she held consultations with Dr Scott in the company of PF chairman for constitutional affairs, Ngosa Simbyakula and spokesperson for the Central Committee, Harry Kalaba to ensure that the general conference takes off as planned.
She said the elections will be contested by the nine candidates that declared interest in the party position.
Ms Wina has since handed over proceedings of the PF general conference to Lusaka-based lawyer, Thuthwa Ngulubwe, as returning officer.
And Mr Ngulubwe has announced that only eligible delegates will be allowed to vote.
However, soon after the announcement, PF chairperson for elections, Syliva Masebo, arrived with armed police, insisting that the planned elections are illegal.
The police fired warning shots in the air as Ms Masebo drove away from the same place.
However, PF members have continued with the election process.