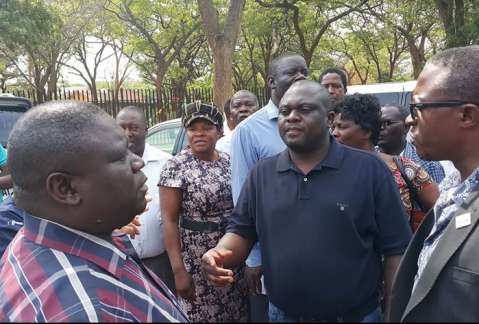 The PF Central Committee and its Members of Parliament have agreed that the party general conference slated for Kabwe proceeds as scheduled and all concerns regarding the list of delegates will be resolved at the conference.
Foreign Affairs Minister Harry Kalaba, who spoke on behalf of the Central Committee members and MPs, says the committee and the lawmakers have been investigating allegations of parallel registration and accreditation.
He has told a media briefing that the committee and the parliamentarians have also been investigating allegations of certain centres restricting delegates to people aligned to a certain camp.
Mr. Kalaba says although he aware of the maneuvers to tamper with the register, his team is steadfast that a fair, transparent process will be carried out to elect the party's presidential candidate.
He however is hopeful that the said allegations will be resolved at Mulungusgi in Kabwe.
Mr. Kalaba says enemies of the party have resorted to scare tactics of intimidation and instilling fear in the delegates adding that such activities are aimed at scaring away some delegates.
He said the PF family is determined to elect a candidate of its choice and will thereafter embark on national campaigns.
Mr. Kalaba says it is duty of the committee and parliamentarians to carry on with the president Michael Sata's vision of party unity.
ZNBC