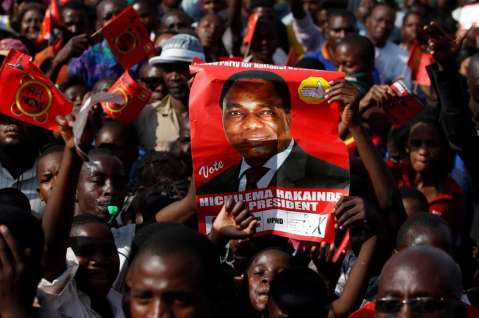 UNITED Party for National Development (UPND) president Hakainde Hichilema says his party will equitably share the country's natural resources across the country if it forms Government after the forth-coming presidential election.
Speaking during a media breakfast in Kitwe yesterday, Mr Hichilema also said he is happy that the pact between UPND and Patriotic Front (PF) prior to the 2011 general elections did not work.
"We are very happy that the pact with PF did not work. We are happy that we are out, otherwise, what alternative were we going to have now?" Mr Hichilema said.
He said he is happy to be in a relationship with the Alliance for Democracy and Development (ADD) ahead of the forth-coming presidential election.
"We are proceeding hopefully to unite other opposition political parties," Mr Hichilema said.
He said there is need to avoid a situation where the country is consistently governed by a minority government.
Mr Hichilema said his party is committed to uniting Zambians.
He said also it is sad that some people have made politics a career.
"Politics should be a vocation and not a career. Some people I am competing with have been in politics before I was born. This is an opportunity for Zambia to correct the wrongs that are going on out there," he said.
"This is why we are saying your support for us in this election will allow us to lift the wage freeze. We will take back the retirement age to 55. When people are retiring at 65, when will the youth join the job market?" Mr Hichilema said.
And speaking when he featured on Radio Icengelo on Wednesday, Mr Hichilema said the country needs a leader that will put the interests of the people ahead of political interests.
Zambia Daily Mail