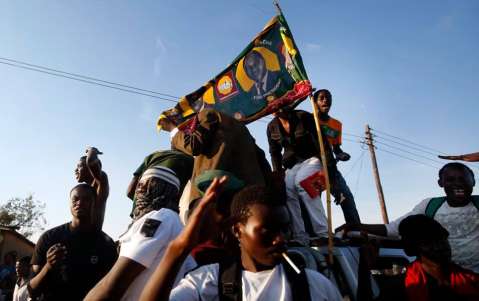 United Party for National Development (UPND) President Hakainde Hichilema says he will reverse the decision to increase the retirement age from 55 to 65 years if he is elected president in the January 20th presidential election.
Mr Hichilema in a statement issued to QFM News says the decision to increase the retirement age means that the PF government would rather have a government of old and tired people working while the majority of the youths remain in the streets.
Mr Hichilema states that following his interaction with students at the Copperbelt University in Kitwe, it has come to his attention that the students just like their colleagues in other learning institutions have genuine fear of not getting jobs after graduation.
He has promised the youth that he will work hard and mobilize so that he win the coming election.
Mr Hichilema says come January next year, the UPND will reserve the decision to increase the retirement age so that young,vibrant,energetic people can have spaces for jobs.
He states that his government's policies will be such that by 55 or even below, someone should have been sufficiently empowered to even be an entrepreneur and hence an employer of these same youths.
The UPND Leader however says this does not mean there will be no room for people above 55 years working.
Mr Hichilema says the UPND government will retain specialized skills on contract basis above 55 years.
Meanwhile the UPND says it has noted with a bleeding heart the PF's continued abuse of public properties.
UPND Deputy Spokesperson Edwin Lifwekelo says his party is disappointed that the PF have continued to abuse State House, Government House and Cabinet Office by using them to hold party meetings.
Mr Lifwekelo says this is tantamount to abuse of office warning that PF leaders risk going to jail when the UPND assumes office after the 20th January presidential election.
He says the UPND notes with sadness that State House has continued being used to host Central Committee meetings in total disregard of the public service act.
QFM NEWS