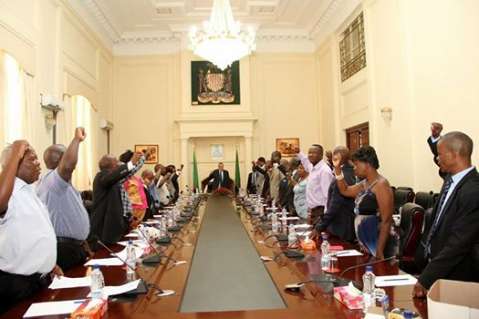 Members of the Patriotic Front Central Committee who met to suspend acting President Guy Scott from the party have apologized to him for their action.
In a statement of apology dated 25th November made available to QFM News signed by fourteen members of the Central Committee who themselves were suspended over the weekend by Dr Scott, they have unreservedly apologized and withdrawn their actions.
They have further regretted the embarrassment their actions may have caused Dr Scott.
The Central Committee Members who have appended their signatures to the statement are John Phiri,Stardy Mwale,Freedom Sikazwe,Susan Kawandami,Rasford Mwale,Sylvester Mtonga,Attany Mwamba,Fabian Chiposo, and Jean Kapata.
Others are W. Kamayoyo,Yamfwa Mukanga,Benson Chali,Peter Kazhila and John Chisanga.
QFM