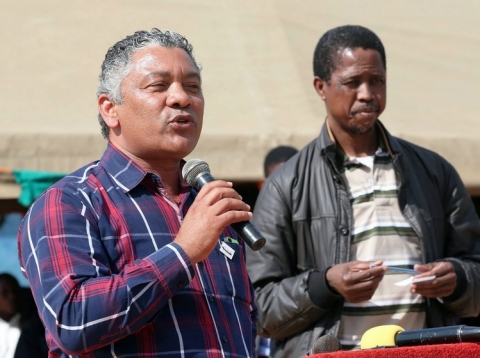 –PF Kabwata Member of Parliament (MP) and presidential aspirant, Given Lubinda, has dismissed media reports that he is a member of the 'infamous' cartel of the ruling party.
Mr Lubinda says nobody is funding him in the forthcoming presidential poll slated for January 20, 2015.
Speaking this evening when he appeared on Millennium Radio programme, the Kabwata law-maker refused to be funded and does not want to be a compromised candidate or a pone who would be held at ransom. 
"My hands are extremely clean; no dent in what-so-ever. My presidential bid is clean and I do not want to make them dirty. No-body is funding me and I refuse to be funded. I don't want to be a compromised candidate or pone to be held at ransom. This is the reason why I have refused to join any cartel of the PF," Mr Lubinda said.
He claimed that he is the best presidential candidate for the January 2015 presidential by-election and offered himself to the Zambian electorate if elected at the forth-coming extra ordinary general conference slated for November 29, 2014 in Kabwe at the Mulungushi Rock of Authority.
Mr Lubinda, a former cabinet minister and Catholic Church member, was however, incensed when some callers pointed out that Justice and Defence Minister, Edgar Lungu was people's favourite.
He alleged that the Finance Minister, Alexander Chikwanda, served more as acting President and not Mr Lungu. 
He explained that Wynter Kabimba, former Defence Minister and PF Kasama MP, Geoffrey Bwalya Mwamba, also acted as Heads of State in the absence of President Michael Sata and therefore Mr Lungu should not cheat himself because of duo portfolios he has and entrusted with instruments of power before President Sata died. 
"I promise to give the Zambian people what they want and l am offering myself to my party and the Zambian people. We should not use assumptions to disqualify better aspiring candidates," he said.
He claimed that once chosen as PF Presidential candidate at the Kabwe conference, he would amend the parentage clause in the republican constitution and also resolve the Chitimukulu chieftainship surrounding Henry Sosala as the paramount chief of the Bemba speaking people.
"This law of parentage is still there and hanging in balance, therefore, it should be gotten rid of. This clause is beyond me but the nation at large," Mr. Lubinda said.
Mr Lubinda pledged to remain loyal to the PF party and quickly called for a cease fire engulfed in the ruling party because the late President Sata invested heavily in it.
He recollected that some selfish people had set traps against him leading to his dismissal from government.
"There was a malicious campaign behind me by some selfish people leading to my dismissal as a minister but it is a passing phase," the Kabwata legislator said.
Mr Lubinda appealed to Acting President, Guy Scott and Mr Lungu to reconcile their differences and move forward as one united team noting time was running out.
But a caller, only identified as Banda, said the ground was ripe for Edgar Lungu and Mr Lubinda and other presidential aspirants were just wasting their time.
Another caller, only identified as Mr Musendo, challenged Mr Lubinda as to why in his 13 year-rule of Kabwata constituency he allowed the parentage clause to still be hanging in parliament instead of being addressed.
Most calls were characterized with appeals to the ruling PF party to put its house in order or risked losing the next year presidential poll.
As if that is not enough, the former ruling party, MMD is also embroiled with power struggle between Nevers Mumba and former President, Rupiah Banda.