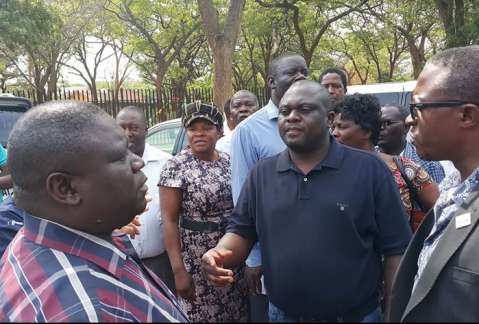 PEACE DAWNS IN PF- GUY SCOTT
After weeks of protracted battles of political contests relating to the adoption of a presidential candidate for the PF, Peace has for the first time reigned in the PF.
Acting President Dr. Guy Scott has announced that the full consultative Central Commmittee will meet on Tuesday at 11hrs at State House and resolve matters relating to the presidential candidates and approve the process the party will take.
Speaking when he met the 16 suspended officials, Dr. Scott stated that their process of resolving the suspension has reached an advanced stage and by tomorrow the Central Committtee wiould meet as one.
Dr. Scott, who met the members of the Central Committee first and proceeded to meet the Members of Parliament stated that the wrangles in the party were now behind the party.
Earlier Minister of Foreign Affairs disclosed that the Cabinet Meeting held today became a good opportunity to resolve the outstanding issues that have caused wrangles in the Party.
He said he was reluctant to discuss matters that were conducted in Cabinet but stated that a new future had dawned in the PF.
"We are hopeful that we have resolved the matter. Yes the PF is one united family and the wrangles have to come to an end. Concerns were brought out. After the matters were resolved successfully, we proceeded with the ordinary business of Cabinet"
Asked if a statement would be issued by Chief Government spokesperson, Kalaba stated that the nation would see its resolve to put wrangles behind and there was no need for a forma l statement on the matter.
"As far as we are concerned, we have opened a new chapter, a new dawn" the hopeful Kalaba emphasised.
Acting President Guy Scott is expected to meet the 16 led by PF Chairperson Inonge Wina and Willie Nsanda that were suspended.
On Tuesday, A full Central Committee involving both factions is expected to be held at State House.
Also in the morning , the 14 Members of Cabinet that are supporting the candidature of Edgar Lungu and are calling for an end to the stand-off in the party called for local and international journalists at State House.
By 08,30 a full troupe of local and foreign journalists had gathered and camped in waiting.
Apparently information had been given that the 14 Cabinet Ministers would walk out of the scheduled Cabinet Meeting if Acting President, Dr. Guy Scott didn't not allow them to discuss the sensitive matters regarding the state of the nation and the current impasse in the PF Party.
After a 3hr meeting, Cabinet ended it's meeting and information had filtered that Dr. Scott conceded to the demand of Cabinet Ministers and a formal Central Committee will be held on Tuesday involving both factions.
At this meeting it is expected that the suspensions of both Acting President Guy Scott and the 16 officials will be lifted.
It is yet to be seen if the warring factions will live upto their words and this temporal truce.
Hopeful Ministers spoken to are keen that Scott will resolve the impasse tomorrow