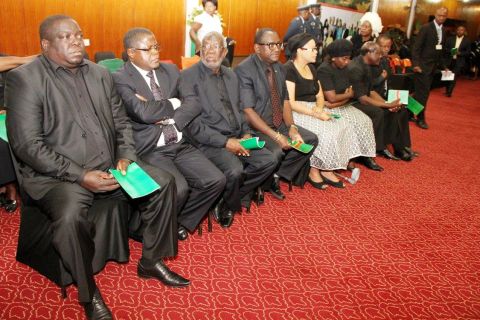 Fourteen Cabinet Ministers today threatened to walk out of a cabinet meeting if Acting President Guy Scott refused to change today's cabinet meeting agenda.
The ministers wanted the agenda of the meeting to be focused on the state of the nation, to which Dr. Scott agreed.
And Dr. Scott has agreed to allow all suspended Members of the PF Central Committee and Members of Parliament to be part of the caucus meeting expected to be held tomorrow.
The cabinet meeting which started around 8:30, ended at around 12hrs with cabinet ministers refusing to issue any statement to the media.
Journalists, who were waiting at State House to hear the outcome of the cabinet meeting, were only told that a detailed statement will be issued tomorrow after the caucus meeting.
Yesterday all suspended members of the Central Committee were denied entry into House where the much anticipated Central Committee meeting was supposed to take place.
The move angered some Central Committee members who in solidarity with their colleagues walked out.
However the Central Committee meeting proceeded with the other members who walked out as a quorum was formed by the members who remained.
QFM NEWS