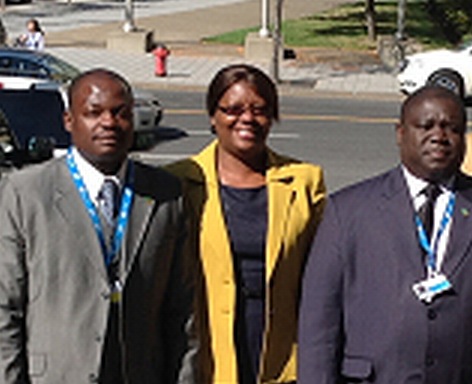 By MWANGALA LISELI –
LATE President Michael Sata's relatives say they did not recommend anyone in the family to seek nomination for the Patriotic Front (PF) candidacy in the forthcoming presidential elections.
According to a statement released by 16 members of the family which included some of Mr Sata's children, none of the relatives vying for the PF presidency have consulted the family before filing in their nominations.
Mr Sata's widow Christine, his son Mulenga and nephew Miles Sampa are among the late president's relatives that have filed their nominations to lead the PF into presidential elections on January 20, 2015.
On Friday, late President Sata's cousin, Emmah Mwila Chibesakunda, told journalists at State House that Dr Kaseba needed the support of all family members in the race because she had been forced to stand a few days after burying her husband.
But late Mr Sata's niece Sylvia Chalikosa, who read the statement on behalf of others, said it was regrettable that some members of the larger extended family were purporting to speak for the family.
Ms Chalikosa said, when the family members went to lay wreaths at Mr Sata's grave at the Embassy Park in Lusaka yesterday, that the family was disappointed with disunity that had been exhibited.
She said the family had not supported any candidate so far but would rally behind any candidate that the ruling party would choose to contest the elections.
"We wish to express our disappointment that our family has shown disunity when we needed to support each other," Ms Chalikosa said. "It is not our wish that we should wash dirty linen in public but have been compelled to clarify the matter."
Ms Chalikosa said the family members needed to devote their time and energies to restore unity within the family.
She said the family's wish was to stay away from the succession and political wrangles until the time that the family had resolved its differences.
"We would like to urge the public to support us by giving us adequate private space to grieve and come to terms with such a devastating loss of a pillar of the family," Ms Chikosa said.
She described the late President as being a devoted family man who took family issues above everything else and urged other members to emulate his virtue so that unity within the family could be restored.
Among the family members that signed the statement were, Monty Tembo, Mwamba Chalikosa, Katema Mutale, Susan Sata Ngwengwe, Fabiola Sata
Liu, Yvette Sata, Yvone Sata, Mwango Sata, Mpanga Sata, Mwango Chalikosa, Hildah Sata, Noble Sata, Rachel Banda, Sylvia Banda, and Mwango Mwape.
times of Zambia