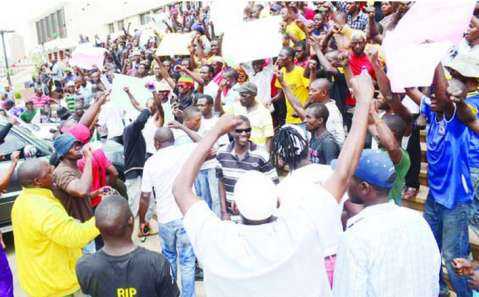 WORLD ATTENTION ON ZAMBIA – Emmanuel Mwamba
Suspension of Acting President and Africa's first white head of state, Guy Lyndsay Scott from his party position has been covered by major international networks and worlds best newspapers.
A scrutiny of CNN,BBC, Aljazeera, SABC? E-tv and newspapers like the Guardian all gave time and space to the story.
It is for this reason that information circulating that Guy Scott has ordered the arrest of 25 Central Committee members that passed the strong resolution might be an act of a miscaculated folliness in the eyes of the world.

Scott who has prided himself as a custodian of the transition is expected to probably ignore this draconian proposal from his handlers and preserve the little integrity his historical presidency has.
The 25 MCCs have called for an emergence Central Conmittee Meeting scheduled for today while the Acting Secretary General, Bridget Attanga has called for another at State House slated for tommorrow

So any act of arrest or intimidation is likely to be covered by the international media.
Attanga had stated that any meeting by the High Body was barred because of a court injunction.
But she seems to have broken the court order herself with her fresh notice.
On Thursday 20th November 2014, the Central Committee suspended Guy Scott for engaging himself in numerous constitutional breaches and announced the action at a Press Conference held on Friday.
But Attanga has claimed that the suspension is illegal as a court order exist to bar any meeting and that the Central Committee was not convened by herself or the Acting President.

But the Committee has stated that their impatience was stretched as Scott has avoided or cancelled all proposed meetings.
The Electoral Commission of Zambia has flagged off official campaigns and has set 18-19th December 2014 as nomination days.
The PF is meanwhile engaged in a bitter succession dispute with the preferred candidate Edgar Lungu picked by the 70 MPS and the Central Committee is unable to campaign as Scott and other interested candidates have demanded for a General Conference.
At the Press Conferences held separately, both the 70 MPs and the Central Committee accused Scott of being controlled and held hostage by a group popularly known as the Cartel and that he was deliberately frustrating the PF to allegedly make it lose the upcoming elections.
A Gershom Mumba has filed and requested for the Court to compel the MCC to allow the General Conference adopt the PF Presidential Candidate.