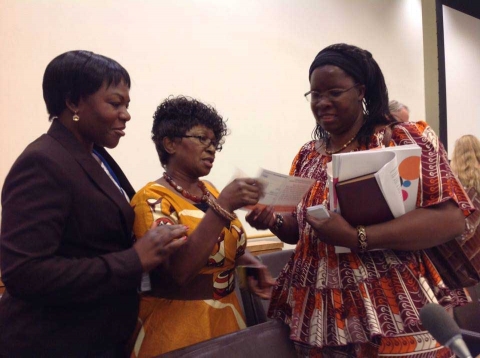 NEW YORK, Friday, November 21, 2014 – The United Nations' Social, Humanitarian and Cultural Committee today adopted a resolution introduced by Zambia and Canada calling for the elimination of child, early and forced marriages.
The resolution titled "Child, Early, and Forced Marriage" was adopted by consensus with a record 116 Member States as co-sponsors, an increase from 107 last year when the procedural resolution was introduced.
The resolution urges all States to enact, enforce and uphold laws and policies aimed at preventing and ending child, early and forced marriage and protecting those at risk, and ensure that marriage is entered into only with the informed, free and full consent of the intending spouses.
Speaking on behalf of the main sponsors – Zambia and Canada – at the adoption of the resolution, Chargé D'Affaires at the Permanent Mission of the Republic of Zambia to the United Nations, Christine Kalamwina, said child, early and forced marriage was a threat to the lives and futures of girls and young women around the world.
"The resolution before you makes it clear that child, early and forced marriage continues to impede development, particularly in the areas of poverty eradication, education, gender equality and women's empowerment, child mortality, maternal health, and combating HIV/AIDS and other diseases," Ms Kalamwina told the 193-Member States. "Together with Canada and a core group of countries from all regions, we have presented a resolution that will be an important step towards ensuring that our girls can reach their full potential."
She said there were about 15 million young people that were forced into marriage annually, and about 700 million living women that were married before their 18th birthday.
Ms Kalamwina assured the international community of the Zambian Government's continued commitment to end child, early and forced marriage.
"Zambia is very thankful to delegations for their helpful participation and excellent suggestions, which have made the current text a testament to the will of the international community to ending this troubling practice," said Ms Kalamwina.
First Secretary (Social, Cultural and Humanitarian Affairs) at Zambia UN Mission Silvester Mwanza and Second Secretary (Human Rights and Social Affairs) at Canada UN Mission Gregory Dempsey led the negotiations for the resolution, which received overwhelming support from all regions for the second year.
Zambia has received international commendation for its efforts to protect and empower girls and women.
Child marriages are most common in south Asia and sub-Saharan Africa, according to UNICEF – a UN agency that promotes the wellbeing of children.
Issued by:
CHIBAULA D. SILWAMBA (Mr.)
First Secretary for Press and Public Relations
Permanent Mission of the Republic of Zambia to the United Nations
Follow us on Facebook: Permanent Mission of the Republic of Zambia to the United Nations