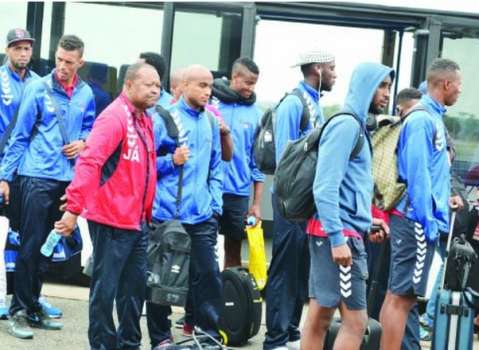 By MOSES CHIMFWEMBE –
PRIDE will be at stake for the Chipolopolo today when they take on the Blue Sharks of Cape Verde in the Africa Cup of Nations (AFCON) Group F formality qualifier match at Levy Mwanawasa Stadium in Ndola.
With qualification already assured, Zambia who will finish second to group winners Cape Verde, will be out to defend the unbeaten run at Levy Mwanawasa Stadium as well as revenge the 2-1 defeat suffered in the first ever meeting between the two sides.
Acting President Guy Scott, his wife Charlotte, Defence, Justice Minister Edgar Lungu, who is also Patriotic Front (PF) secretary general, and some senior Government officials will be among thousands of soccer fans that will be at the stadium to cheer on the Chipolopolo.
Having lost 2-1 in Praia on match day two in September, the Chipolopolo will be seeking to salvage some pride in this formality encounter and also close up the gap on Cape Verde.
The Islanders lead the group with an assailable 12 point-lead with the Chipolopolo on eight point while Mozambique and Niger are on five and one point respectively heading into the final round of matches.
Following a sloppy start that saw Zambia pick up only two points from a possible nine in their opening three group games, the Chipolopolo will be eyeing a third successive victory after beating Niger 3-0 at home and a 1-0 win on Saturday away to Mozambique.
The Chipolopolo are yet to concede a goal on home soil in the 2015 AFCON qualifiers and a win will see them finish a point behind the Islanders.
Despite the outcome of this game not having a bearing on the table, coach Honour Janza has vowed to field his strongest squad.
Christopher Munthali is likely to partner Nyambe Mulenga in the central defence to provide cover for Kennedy Mweene, who was outstanding in the Maputo game.
Given Singuluma, who sealed qualification for the Chipolopolo after his 67th minute strike decided the match in Maputo is expected to lead the attack alongside Ronald 'Sate Sate' Kampamba while Skipper Nathan Sinkala and Rainford Kalaba will marshal the midfield.
The Blue Sharks arrived in the country yesterday via Simon Mwansa Kapwepwe International Airport in Ndola around 12:40 hours with coach Rui Aguas hoping to complete a double over the Chipolopolo but remains cautious of the threat the Zambians pose.
Jose Mendes and Ryan Isaac scored a goal each in Praia to down the Chipolopolo, who scored through Jacob Mulenga, and Aguas will be hoping the two prolific forwards repeat the heroics.
Meanwhile, the Chipolopolo led by Football Association of Zambia (FAZ) president Kalusha Bwalya and committee members Lee Kawanu and Pivoty Simwanza, yesterday donated assorted goods to Mitanda Home for the Aged in Ndola as part of appreciation for the support the team receives.
Times of Zambia