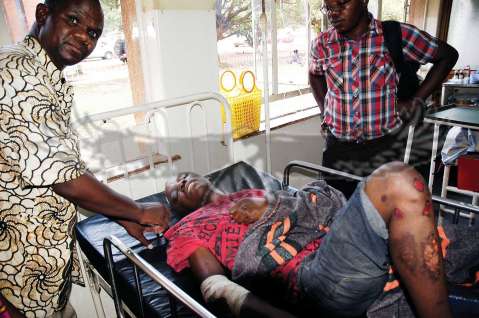 PARENTS of a second year University of Zambia student admitted to University Teaching Hospital after sustaining injuries during the riots that rocked the institution have accused Zambia Police of brutalising their son.
This follows a statement issued by Zambia Police spokesperson Charity Munganga, who said 18 -year-old Luzwe Njobvu had jumped off a police vehicle as he was being driven to the station with eight other UNZA students who had been apprehended in connection with the riots.
In an interview, Mr Philemon Njobvu said Luzwe had called him around 19:00hours saying a fire had engulfed one of the hostels.
Mr Njobvu said he later discovered that his son was in his room studying when police fired teargas on campus.
"One of the ladies fainted and my son left his room to help take her to the clinic when a canister of tear gas was thrown into the clinic. I believe when the police came to the clinic, they rounded up my son with the other students," he claimed.
He also said when he did not hear from his son again, he went to look for him only to find him admitted at UTH on Saturday at about 12:00hours.
Mr Njobvu said he found his son unconscious, with head injuries and bruises all over the body.
He believes his son did not jump out of the police vehicle but was beaten or dragged on the ground.
Mr Njobvu said his son could not have been part of the students who rioted due to non-payment of their meal allowances as he (Mr Njobvu) pays his tuition fees.
And a check by Sunday Mail at UTH found Luzwe with head wrapped in a bandage, bruises on his body and not in a position to speak.
Meanwhile, Ms Munganga said Police has apprehended nine UNZA students among them UNZASU publicity secretary in connection with riots that rocked the institution on Friday.
She said of the nine, one has been admitted to the University Teaching Hospital after he sustained injuries when he jumped off a police vehicle on the way to the police station.
Ms Munganga also said two female UNZA students were admitted to UTH after sustaining injuries.
One jumped through the window of the third floor of a hostel which caught fire at the institution.
Ms Munganga said Police is however investigating the cause of the fire.
Meanwhile, UTH public relations officer (PRO) Mwenya Mulenga said three UNZA students, two female and a male, were admitted to the institution after they sustained body injuries.
Mr Mulenga said the two female students were, however, discharged on Saturday morning while the male is still admitted but in a stable condition and out of danger.
Students at UNZA on Friday ran amok over delayed meal allowances, which resulted in one hostel being engulfed by an inferno.
Zambia Daily Mail